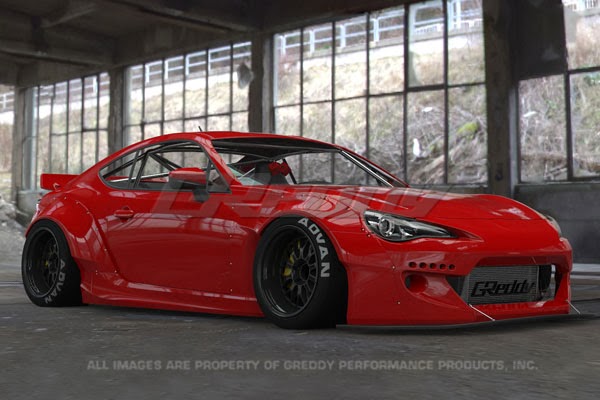 The rocket bunny 350z is not a variation of the Nissan 350z but it is a very popular body kit for 350z owners.
Firstly body kits are something you either love or hate and appeals to a few people but what makes a great body kit is a body kit that has been fitted properly. An expensive body kit that has been fitted badly will just be a bad body kit.
The Rocket bunny 350z kit is one of the most popular kits for the Nissan 350z, and for a good reason it transforms the styling of the 350z making it low and much wider than the original, and of course, body kits give that aggressive stance look that car modifiers are always searching for.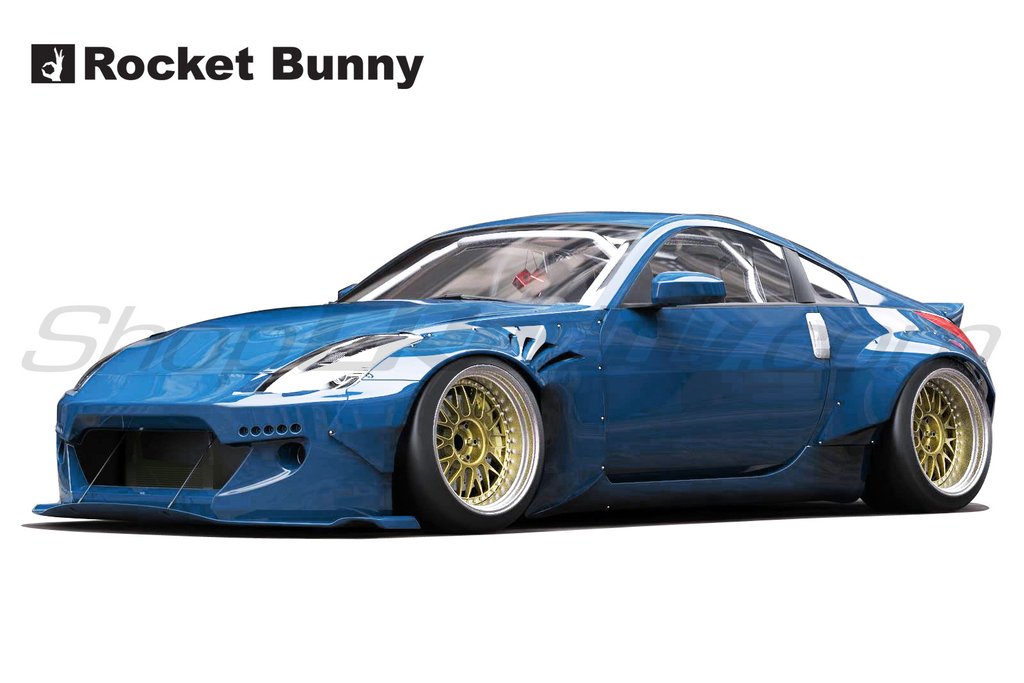 Rocket Bunny 350z Body kit Includes
The official rocket bunny kit supplied in the UK I believe is sold by Torqen and is the complete full wide body kit which fits the Nissan 350Z Z33 2003-2009 and in the kit comes…
Front Bumper
Front Lip
Wide Body Front Fenders
Wide Body Rear Fenders
Rear Diffuser
Duck Tail Wing
Bumper Mesh
OMP Rods
Constructed of Fiber Reinforced Plastic
High Quality
TRA Kyoto Designed
The Rocket Bunny 350z kit does not come cheap, and at just over £5,400 you will need deep pockets. Oh, and that is just the supply cost, not the fitment cost.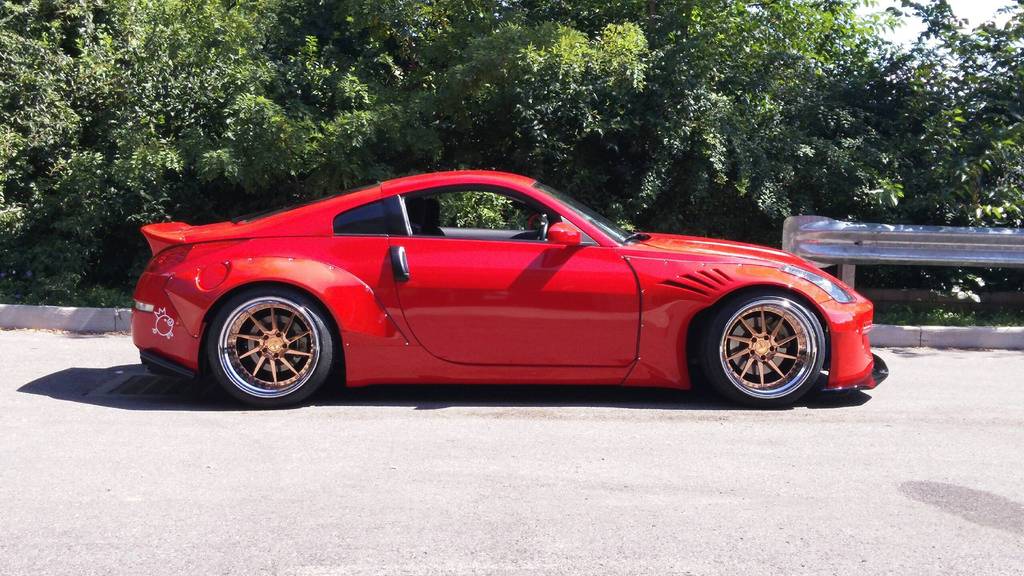 The fitment cost is not ever going to be cheap, I have had body kits fitted in the past, and no matter how good the Rocket Bunny kit is or any kit for that matter there will always be fettling due to discrepancies in the car it is going on etc.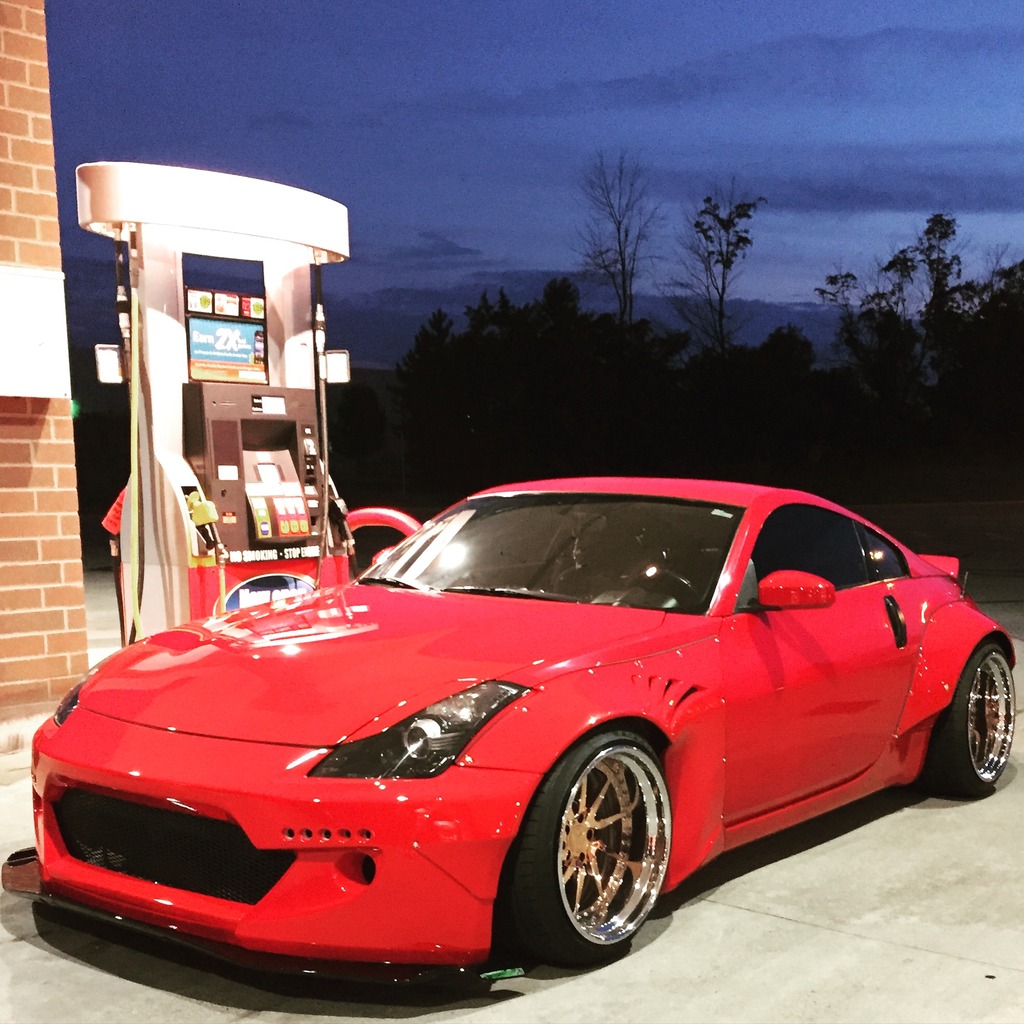 When you are spending the best part of £5k on a body kit, you need to make sure that the car it is going on is perfect so make sure there is no rot or anything that could cause problems in the future.
There is nothing worst than fitting a body kit to find out your engine is about to blow, or your side sills are rotten so badly that you need to remove the kit to do the repairs.
If you are interested in other cars that have a massive body kit look at the Vaydor G35 this is an extreme body kit for sure.
As with any popular kit like the Rocket Bunny 350z kit, there will always be copies or replicas of them, and they will always be a lot cheaper than the genuine article.
However, I feel with copies of anything, as a rule, you get what you pay for, and you should really be prepared for a lot more work to get them fitting correctly. In my experience with other body kits, you can sometimes spend as much as the genuine body kit trying to get the aftermarket one to fit properly.
The Rocket Bunny kit is a great looking kit, and if I were going to go down the 350z route it would be high up on my shopping list, but I would be setting aside at least another £3k to fit it, or when I decide to start I will just keep spending till it is finished.
Reading the Nissan 350z forums, I can see a massive divide on whether people like the Rocket Bunny 350z kit but nothing has changed in the car scene.
One thing that has cropped up a lot is that the 350z owners who have mint condition cars prime to spend the money on the Rocket Bunny kit are apprehensive about cutting their panels to fit the kit.
This is a valid point as once you start fitting the kit, there is no real easy way you can put it back to OEM after and you are stuck with your decision.
Anyway, that is enough ramblings from me I have to say, for me the Rocket bunny 350z kit ticks all the boxes for me just not sure I could justify the purchase cost and install cost.