The new BMW M2 Competition has been released and it has a new engine under the bonnet. And then some.
As we all know – because we have leaked information a few weeks back – the BMW M2 Competition will be supplanted with its bigger sister's 3.0-liter twin-turbocharged inline-6, the S55. There is a substantial power bump as power is now at 404 bhp and 404 lb-ft of torque, compared to 364 bhp and 369 lb-ft of last year's M2.
Though it might be less powerful than the M4, it has less weight that pays great dividends in acceleration and handling. The sprint from naught to 60 takes a brisk 4.4 seconds when your car is equipped with a manual The DCT-equipped version is faster still with just 4.2 seconds.
The M2 Competition, however, is not just a specialty designation. It will replace the 'normal' M2 and become the 'regular' M2. Thus, we say goodbye to the great N55 we have loved so fondly.
Aside from the powertrain, the chassis has also been re-calibrated with a carbon-fiber strut brace from the M3/M4 twins and a re-tuned electric power steering to keep u with the changes. Of course, this wouldn't be an "all-new" model if you can't tell it apart from the old one. The front and rear fascias have been treated to new bumpers. The 19 inch wheels feature a new design, as are subtle M2 Competition badges scattered around the body.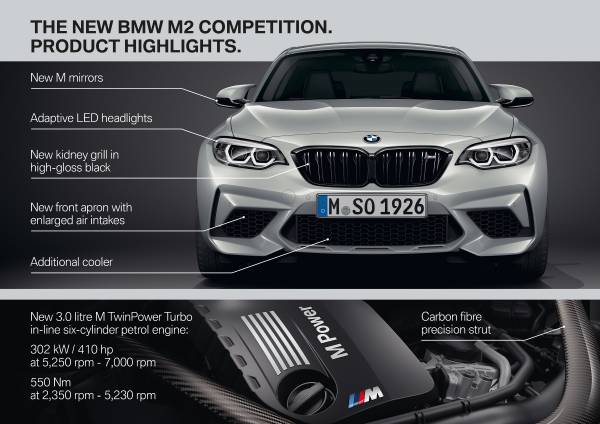 And because we know this car will be great, BMW is going to make money since prices start at £51,900. Or about 2,500 quid more expensive than the outgoing version. You can still consider this car a bargain as it is still cheaper than the Audi TT RS.