The Suzuki Cappuccino is a two door two seater hardtop convertible car that was created to meet the KEI car specifications for the lower tax and insurance specifications in Japan, and it was first released in 1993. The Suzuki Cappuccino weighs just 725 kg and is powered by a turbocharged three cylinder 657cc double overhead cam engine. The Cappuccino had to also conform to the KEI car regulations on being 3295mm long and 1395mm wide so you can see why this is really a very small little car.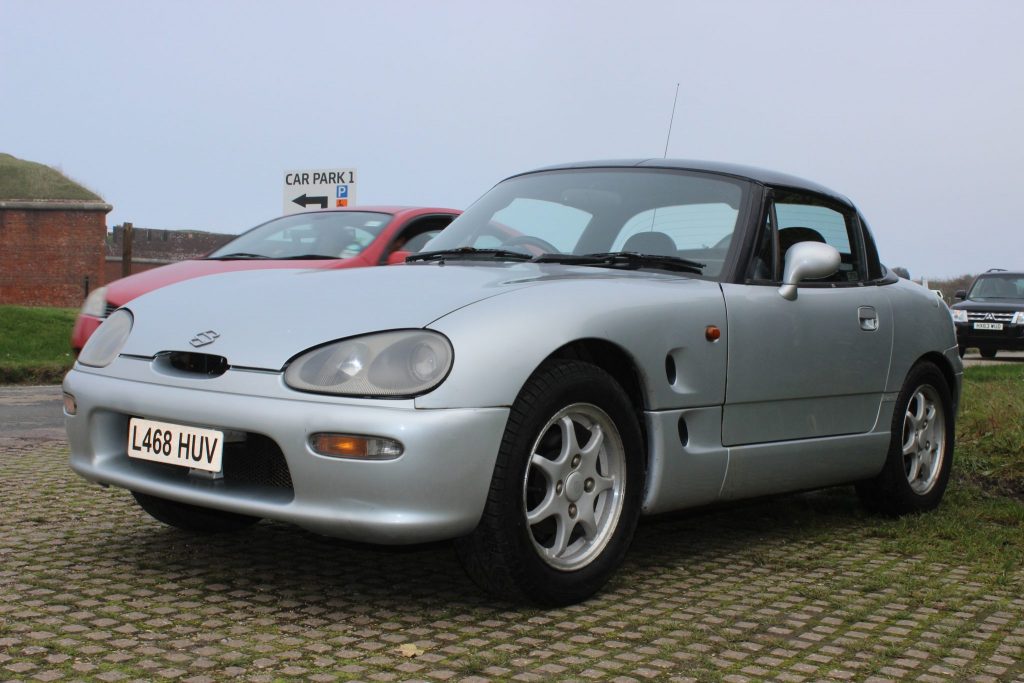 The Suzuki Cappuccino is said to have a 50-50 weight distribution when both seats are occupied, and the engine is in the front of the Suzuki Cappuccino, but the power goes to the rear wheels. It also comes with a three-piece removable roof, and these three sections fit extremely neatly in the boot of the car in three separate bags, which then doesn't leave much space for anything else in what is already a very small boot.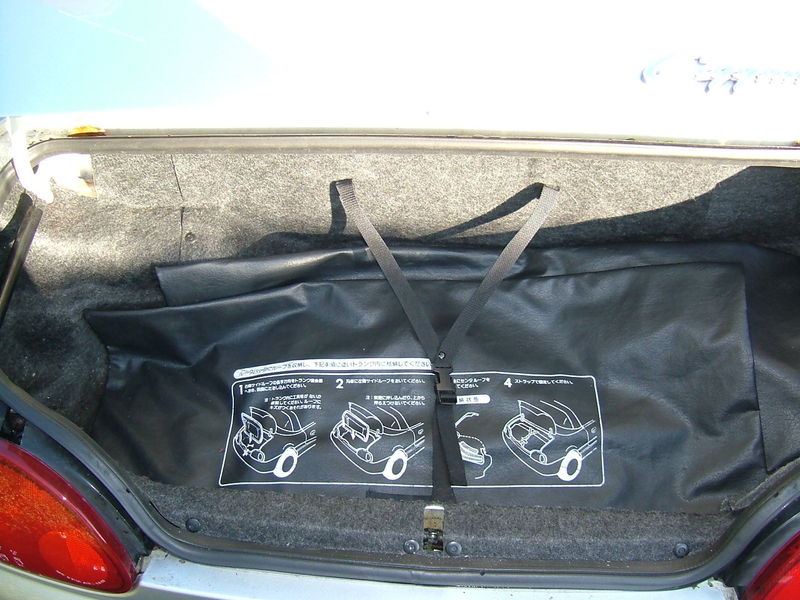 Unlike many convertibles of its time, the Suzuki Cappuccino's rear window is made totally of glass, and this wraps around with demisting elements so that you can easily keep the screen clear. This is a very, very good feature for the Cappuccino as you get the added security of glass, but you don't have to worry about the rear window splitting unlike BMW Z3 and also the Mazda MX-5. I hate seeing  convertibles with a split and tatty looking canvas roof.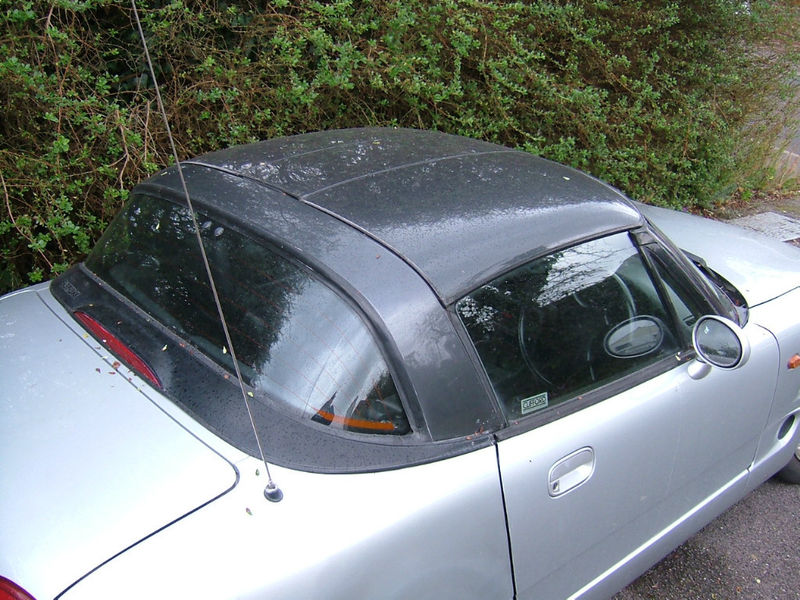 It was the Christmas of 2011 that I decided it was time to get back behind the wheel of a car as I had not driven very much between 2009 and 2011, due to being very ill with a tropical disease.
So after looking at getting back in the driving seat I decided I wanted a car that can be fun to drive while also being very cheap on insurance as I had not had my own car insurance policy for over two years now due to bad health.
I had to start my car insurance no claims collecting again from fresh, which was slightly annoying as I had planned on buying something with a little more power and performance.
Quick But Affordable
I was trawling the local papers and the normal places like eBay, auto Trader and GumTree for cars that were a little different. I was quite keen on a car that was a rear-wheel drive, and I was looking at the usual suspects. The BMW Z3, BMW Z4, numerous Lexus and of course Porsche 911's, Porsche Boxster's and also the Porsche Cayman were all on my list of cars, but the insurance for me was going to be a little high, and I was not sure about dropping massive amounts of money on something that I may end up bending.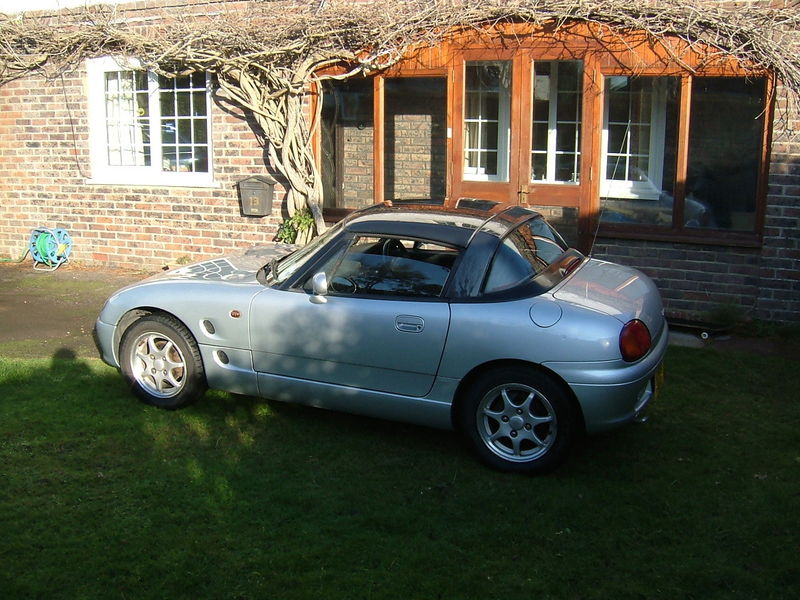 However, a little car caught my attention on eBay and after realising it was only up the road from us, and I decided to give the chap a call and see the Suzuki Cappuccino in the flesh. My good lady Jane drove me there and when we first saw the Suzuki Cappuccino, we both laughed but at the same time, I was very impressed by the quality of the car. I instantly fell in love with the quirkiness that I could already see in her, and I knew I would kick myself if I did not get it.
The owner was very keen on taking me for a spin, and although he didn't allow me to drive the Suzuki Cappuccino, I could listen to her and feel for anything that was not exactly right. We were quickly taken up the bypass, and I was amazed by the performance and the agility of the Cappuccino. It was like being in a go-kart, but for two people, it also felt like you were going a lot faster than you really were and this was due to be very low to the ground.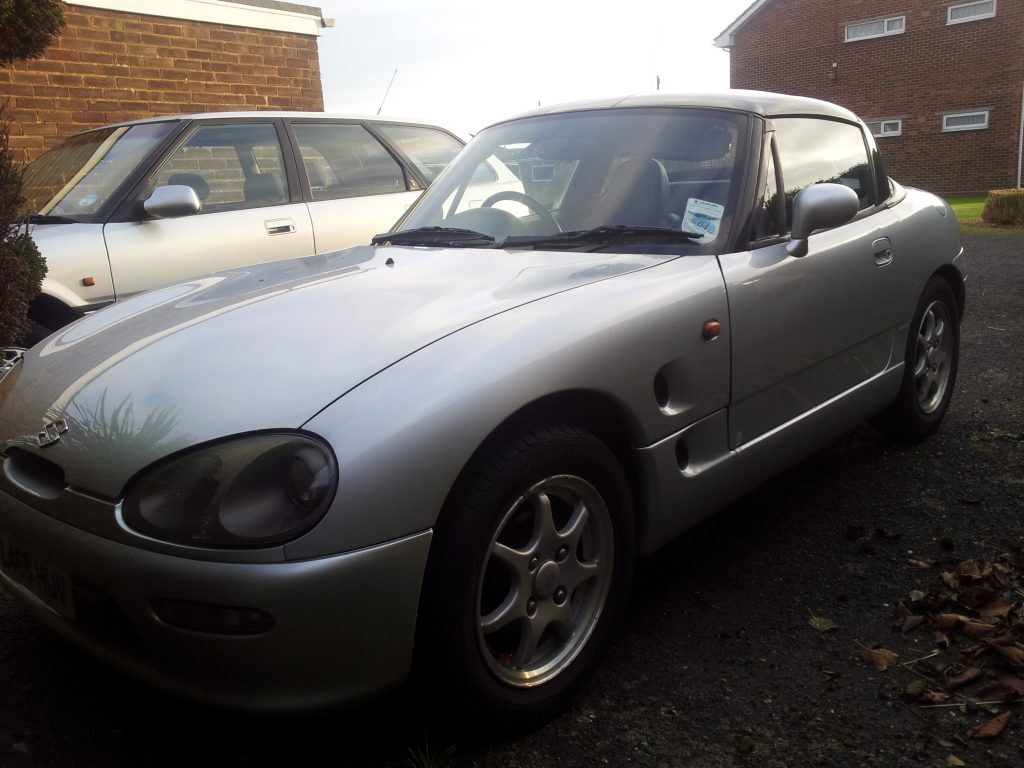 The previous owner of this Suzuki Cappuccino had kept it in a centrally heated garage and looked after it for numerous years and after trawling through all the paperwork he had, I was pretty certain this was going to be the car for me as I mentioned earlier I had already decided I wanted it.
I didn't make the owner an offer on the car straight away as I wanted to see what the eBay auction would fetch, however, I did put my first bid in at £1750 which I knew was the reserve price. The following day I was picking the car up and driving her home for the very nice sum of £1750.
£1750 Suzuki Cappuccino
The first thing I did notice about Suzuki Cappuccino when I picked her up was that the second gear was very hard to select when the engine is cold. Once she warmed up, she just glides in effortlessly into gear and to be honest, that is all I could find wrong with the old girl.
Within a few days of owning a Suzuki Cappuccino, I had booked her in for cam belt change, and also I decided to change the gearbox and dif oil, just so I could be sure that the gear selector problems were not caused by old knackered gearbox oil. This was a massive improvement and although the second gear was still a bit stiff to select it was a lot easier and after reading lots and lots of information online about the Suzuki Cappuccino, I realised that the gear problem was something that almost every Suzuki Cappuccino in the world has and this is something you have to live with.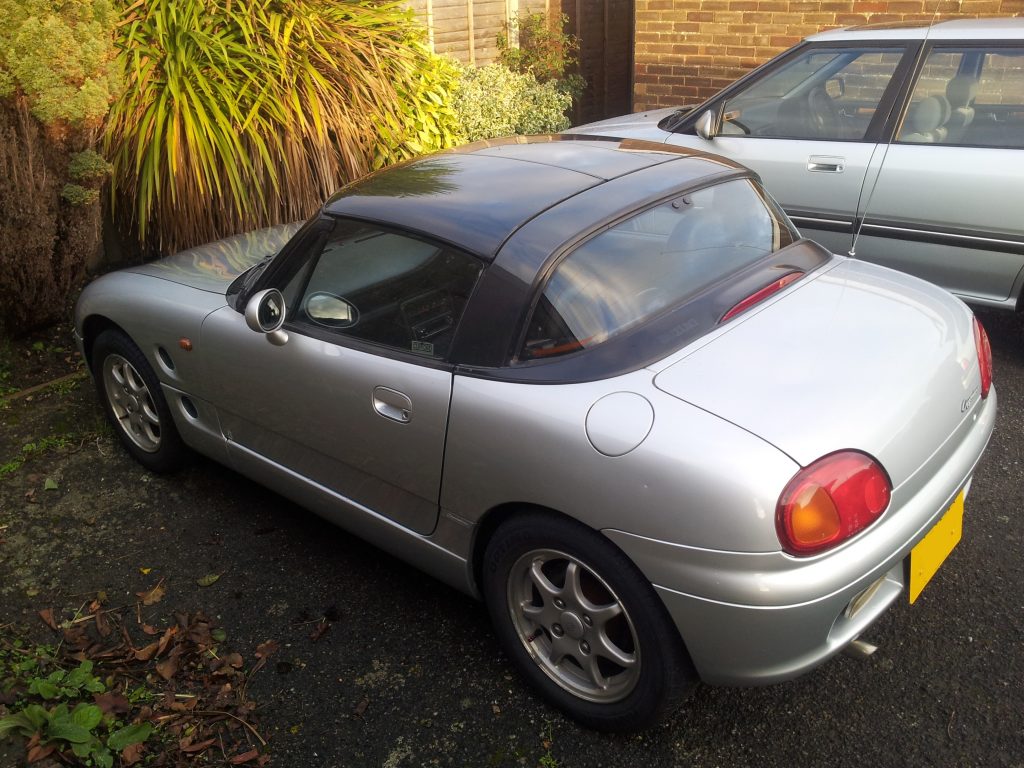 Well, it's been nearly two years now since I bought the Suzuki Cappuccino, and I have to say is one of the best cars are ever owned. I have had to take a lot of stick from naive and small-minded friends who just see the Suzuki Cappuccino as a bit of a hairdresser's car and this only continues right up until they get into it, and then they start seeing exactly why I still own her.
Only 139 Cappuccinos Left…
The Suzuki Cappuccino I own is one of only UK spec cars and from my research, it is at most one of 200 original silver cars to exist in the UK ever!! So at the time of writing this I headed over to the "how many left" website and there is a total of 402 Suzuki Cappuccinos of which 263 are on SORN, which leaves a grand total of 139 currently on the road. I'm also making an educated guess this includes the many that were imported into the UK and are not genuine UK Suzuki Cappuccinos this makes her a very rare car to own.
The Suzuki Cappuccino originally came with the F6A bike engine, and the later models were fitted with the K6A bike engine. My Suzuki Cappuccino is a 1994 vehicle and has the F6A engine. The power output was claimed to be 63 hp at 6500 rpm to fit under the maximum power allowed for KEI cars but due to its weight, it makes for a very spritely little car.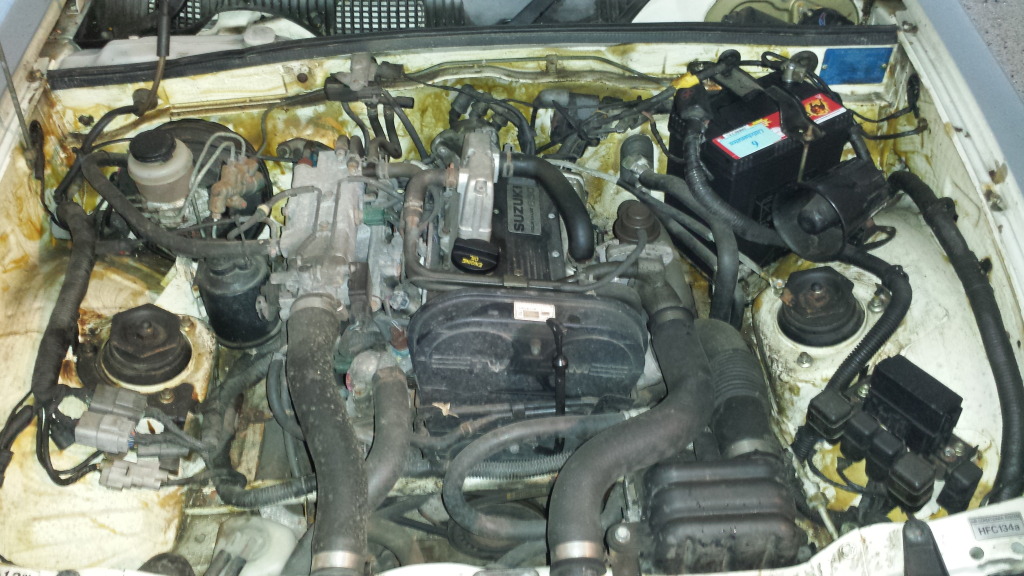 The Suzuki Cappuccino is very rev happy with its 64 hp 657cc engine. My Suzuki Cappuccino sounds beautiful and when the turbo kicks in the acceleration is extremely quick, and the Suzuki Cappuccino does 0-60 mph in just under eight seconds, although the driving position does make it feel a hell of a lot quicker, and if you work the five-speed gearbox, you get great fuel economy and also have a lot of fun. I am getting around 35 miles to the gallon at the moment which I think is very good considering the age of the car and the way I drive it.
The Suzuki Cappuccino doesn't exactly make for a pleasant motorway drive, especially if it's something that you have to do regularly. There is always the thought in the back of your mind that you are in a lorry's blind spot and there is not a great deal of protection if you were involved in such an incident. Once you get off these roads it's very much a different story.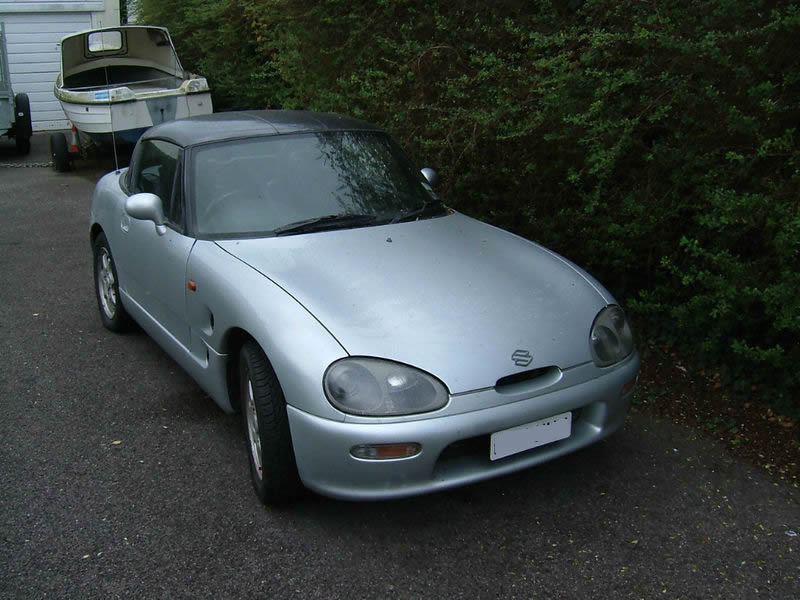 The Cappuccino loves the twisty winding country lanes that the UK has to offer, and it's extremely grippy, fast and a great deal of fun. The steering is very sharp, and you pretty much just have to point it in the direction, and it goes. There is very little body roll and an absolute pleasure to drive in the dry. It is a completely different story in the wet though…
Taking the Suzuki Cappuccino out on a damp day can be a pleasure, exciting and thrilling adventure, or it can be hair-raising. The first few times of driving in the wet it was terrifying as being rear wheel drive it wasn't very hard to get the back to break away on roundabouts and in the corners. However, after lots and lots of miles under my belt, I absolutely love going out in the rain and when the back does break free, it is controlled and superb to drive.
The Suzuki Cappuccino is getting rarer and rarer as the years go on, and I'm going to do my best to ensure that I can preserve and look after this tiny piece of motoring heritage. Since owning her, I have now gotten hold of lots of spares to ensure that I can continue enjoying and driving the Suzuki Cappuccino for many years to come.
Tin Worm In The Cappuccino
One thing you have to bear in mind if you are looking to buy a Suzuki Cappuccino is that they are very well known to rot from the inside outwards. You may go take a look underneath of the vehicle, and if it looks perfect, you need to take a look inside and get some carpets up to get the real picture. I've recently removed all the carpets and had the floor welded and holes repaired, and we are going to be putting it  into the spray shop to ensure that she is looking pretty for the next years show season.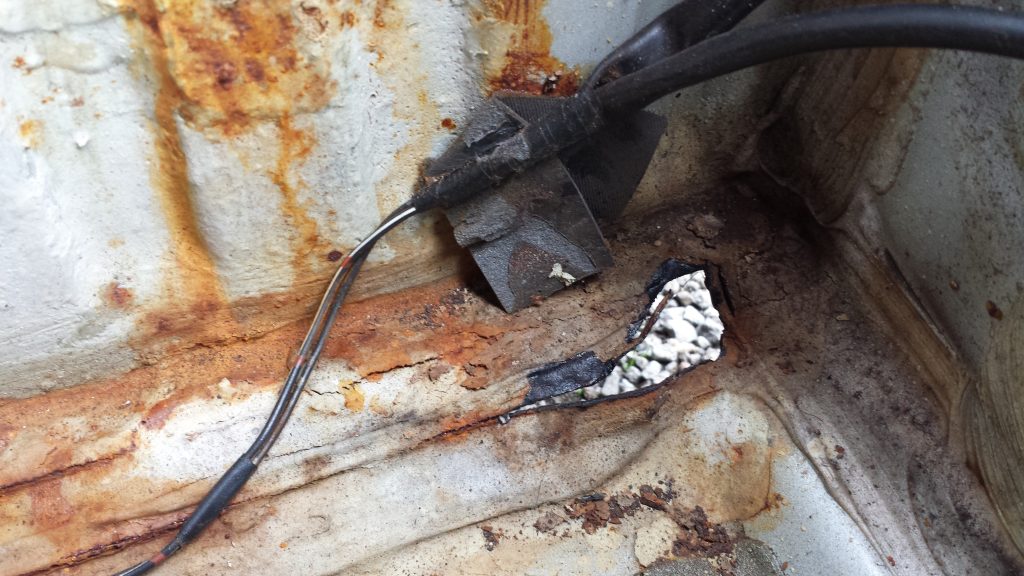 The Suzuki Cappuccino comes with four-wheel disc brakes and is rear-wheel drive, and it also is restricted to 87mph but this is easily overcome if you feel the need to. I, however, have kept the restriction in place as obviously in the UK, there is nowhere legally your aloud to drive over the 70 mph speed limit on a public road.
The Suzuki Cappuccino is very much a pocket-sized sports car, but it drives and handles like a full grown-up sports car. It is definitely obscure and quirky, but this is a classic car that never fails to turn heads no matter where you drive it. You always get people stopping and looking.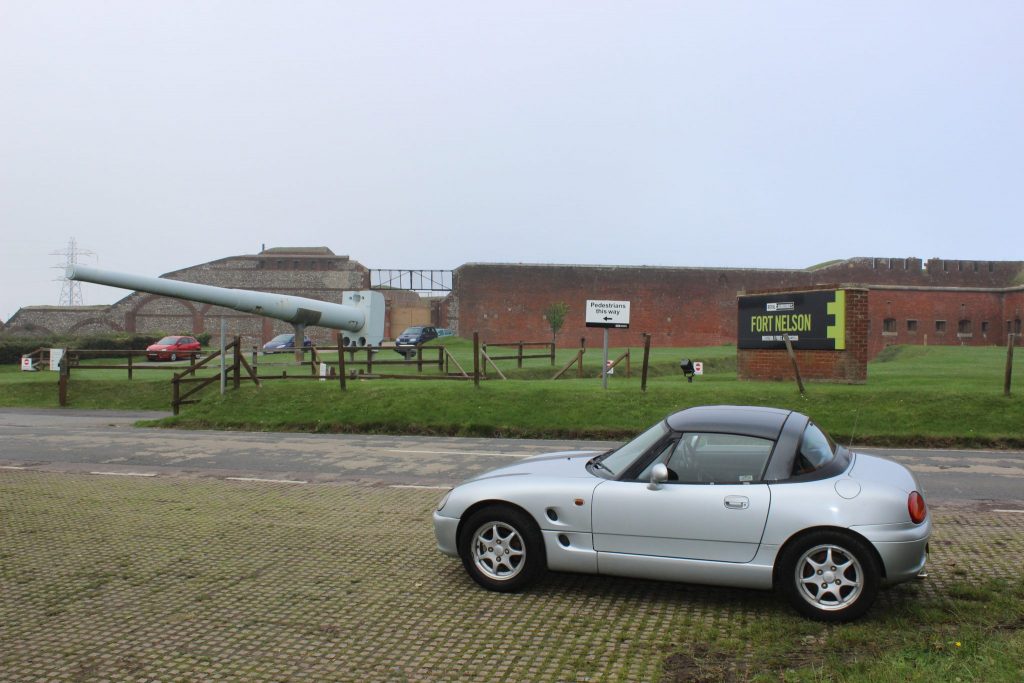 I really hope you enjoyed reading about my Suzuki Cappuccino I know its not the first car you would think we would cover but it does have its part to play. If you have any questions or suggestions then please contact us and we will do our best to help.