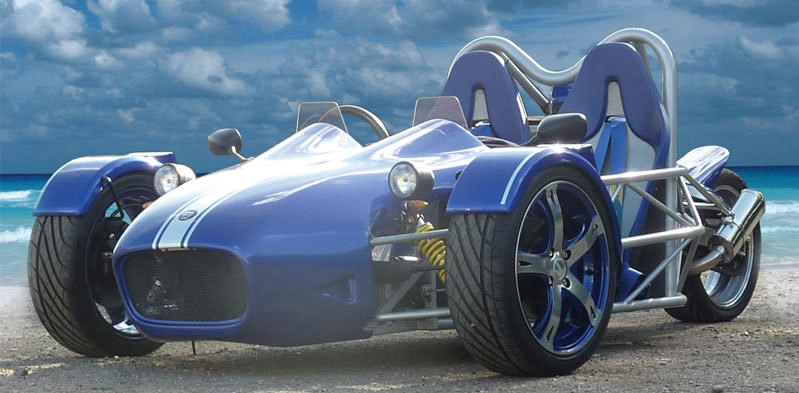 So after this years Stoneleigh kit car show our club started to really notice the amount of three wheeled kit cars that are coming to market and with one of our club members already having a Scorpion I figured that I would look a bit further into the world of three wheeled kit cars and so I am going to start with one of the most recognised 3 wheeled kit cars the MEV TR1KE.
So lets get started
With the typical MEV exo-skeletal chassis design which we have grown to know and of course totally fall in love with. The panel-work on the MEV TR1KE was designed by Liam Wilkinson and as you can see from the photo above it is exceptionally sleek looking and let not forget about the Yamaha R1 bike engine that is powering this sensational looking and performing kit car. AT every single kit car show I go to I am always drooling over this style of kit car and at the moment I can only dream of exactly how well this kit car performs on the track.
The MEV TR1KE has well over 430bhp/tonne power to weight ratio and it is absolutely stonkingly quick! But have having a shed load of power is not any good unless you have bucket loads of grip and the MEV TR1KE has a very low center of gravity and really does take building a very capable kit car on not a great deal of money. You can have a lot of fun in this trike kit car on what many petrol heads would conceive as being mere pocket money.
 How Much Does It Cost To Build?
So the MEV TR1KE is not too expensive to build if you look at what you get for the money and then of course how much fun you are going to get. I am someone that does not put a price on a smile.. if it makes me smile then its money well spent 🙂 The MEV TR1KE complete kit comes in at £3999+ VAT (YUK) and you will need a donor vehicle of a Yamaha R1 Motorcycle which can be picked up on ebay for as little as £500 and I am sure if you searched around you could find a damaged one for a little less money and the great thing about the MEV TR1KE is that once you have got all the bits you need for it there is still a lot of bike left.
We always recommend when building any type of kit car to remove all of the bits you need for your build and then strip the rest of the donor vehicle and and sell them off on sites like ebay and I know that from personal experience you can normally make more money from selling the parts than you actually paid for the vehicle which is fantastic. So picking your donor vehicle in this case a Yamaha R1 very carefully can provide a good source of much appreciated cash.
Get A Factory Built MEV TR1KE
There are plenty of people that love kit cars and just dont have teh space or the time to build one and would rather have someone else build it for them and I can see why they do this as they know that they will be getting a cracking kit car that they can be confident in the build quality and tehy can carry on their normal lives while it is built in a factory.
The Factory built MEV TR1KE costs just shy of £14,000 and that is the brand new and on the road price fitted with a fuel injected 1000cc Yamaha R1 engine and you can choose which tyre and wheel combination you would like along with the colour of the panels and chassis.
A factory built MEV TR1KE takes about 10 weeks to complete and will come with everything you need to drive it away and it will of course be 100% road legal and you wont need to MOT for 3 years as it is classed as a brand new car.
 I hope you have enjoyed my review of the MEV TR1KE and that you head over to Road Track And Race for more information and if you have any questions then these guys will be able to help. If you have any questions for Kit Cars UK then please contact me and I will be more than happy to help 🙂