The first owners of the Aston Martin Vulcan travelled to Abu Dhabi last week to receive world-class tuition from an elite team of racing drivers, led by Aston Martin Racing works' driver Darren Turner.
The Aston Martin Vulcan is the product of the luxury British carmaker's extensive motorsport experience. There is no question that the track-only supercar demonstrates Aston Martin's flair for design and now a select group of owners have had the opportunity to use the Aston Martin Vulcan for its intended purpose – as an exhilarating 820 bhp supercar, engineered exclusively for extreme performance on-track.
The customers in Abu Dhabi received tuition in the V12 Vantage S road car and the Vantage GT4 race car, before heading out onto the iconic Formula 1 circuit in their own Aston Martin Vulcan, powered by a potent 7.0-litre V12 engine. Passenger-side tuition was given on every lap and the customer's skills were tested throughout the day and into the night so they could fully experience the car in different atmospheric conditions.
Aston Martin Director of Special Projects and Motorsport David King commented: "Aston Martin Vulcan is a very special car and that is why we have developed a unique ownership programme. This includes specialist training so customers can drive it in the way it was intended. It has been great to see the first customer's reactions after unleashing their very own Aston Martin Vulcan on the Grand Prix circuit here in Abu Dhabi."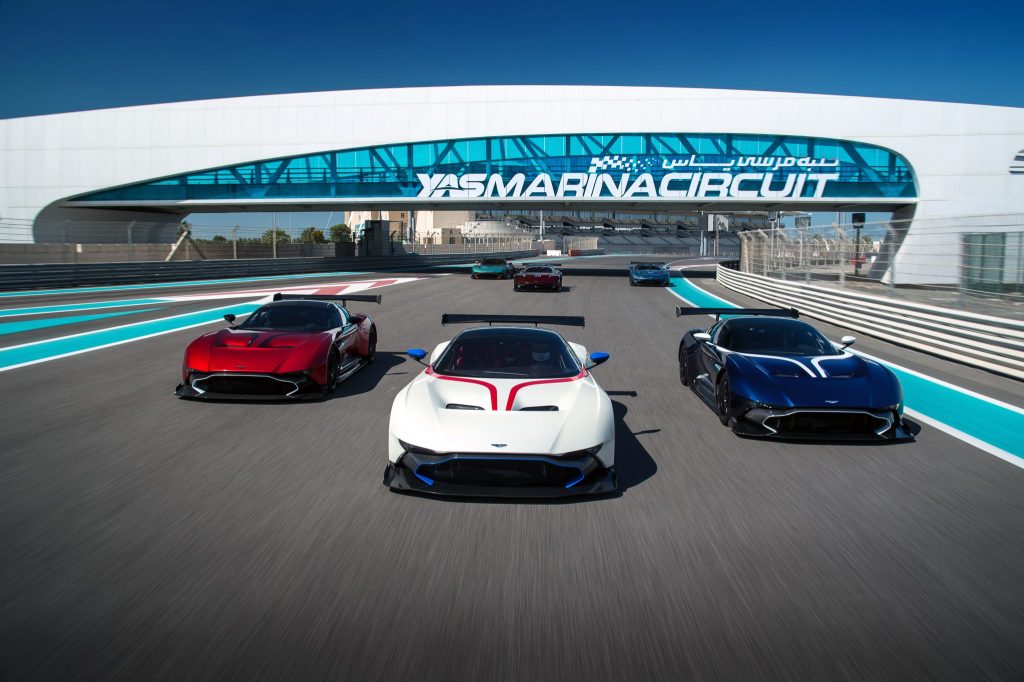 Just 24 Aston Martin Vulcans will be built in total and all 24 customers will receive world-class tuition so they are able to make the most of their new supercar.
Aston Martin Racing works' driver and high performance development driver Darren Turner said: "The priority for all of us on the team was to produce a car that provides immense enjoyment for the customers. Judging by the reactions we have seen this week that goal has been achieved and surpassed.
The guys here this week have all been in the car as my passenger at recent events, but this was the first time they got to see and drive their very own Aston Martin Vulcan. It has been a pleasure to see how quickly they have all got up to speed and to hear their first impressions of the car. I predict many fun track days ahead for these guys!"