The Shelby Daytona Coupe is regarded as one of the greatest cars in American motorsports history. With an aerodynamic body created by top designer Peter Brock it's good for 196 mph, Shelby's Ferrari-basher dominated the 1965 race season on its way to winning the FIA GT World Championship – and remains the only American car to achieve the feat. While getting your hands on one of the original six race cars will cost millions, there are some more affordable solutions.
Daytona replicas are nothing new but American-based Robertsham LLC (Exotic Auto and Restoration) has come up with a unique interpretation of the famous Shelby named the Daytona Coupe Le Mans Edition. Based on the Shelby Cobra Daytona Coupe built by Robertsham from the ground up the Le Mans Edition package gets extra goodies including fender flares, wider 18-inch wheels and tires, heavy-duty suspension, billet aluminum hood intakes, Alcantara leather, brushed aluminium dash with aircraft-style toggle switches, bespoke gauges, and a suede Momo steering wheel. Powertrain options include any Ford V8 based on the Windsor 351 block, like the 530-horsepower Roush 402R packed into the pictured car or any Chevy based V8 like the LS3 or LS7.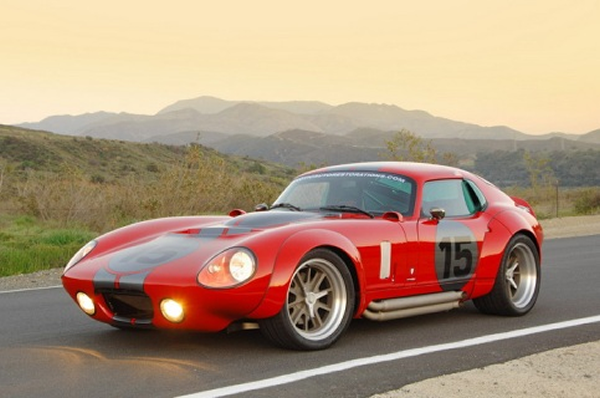 Group 5 fender flares front and rear
Wider 18-inch wheels and tires
Heavy duty Bilstein shocks and H&R springs
Functional billet aluminium top and side hood louvres
Reclinable Alcantera suede seats with "LeMans Edition" embroidery
Brushed billet aluminium dashboard with aircraft-style toggle switches
"LeMans Edition" gauges with 200 mph speedometer and 10k rpm tachometer
Suede Momo racing steering wheel.
If that still isn't enough speed for you, Robertsham LLC also offers a race-spec version, the LeMans GTR, that also gets a 6-point roll cage, weight reduction, quick-release steering wheel, upgraded brakes, carbon fibre front splitter and rear diffuser, Shelby aluminium block 427ci V8 with 560 horsepower, and more. Only six of these Race cars will be built, to commemorate the six original racecars.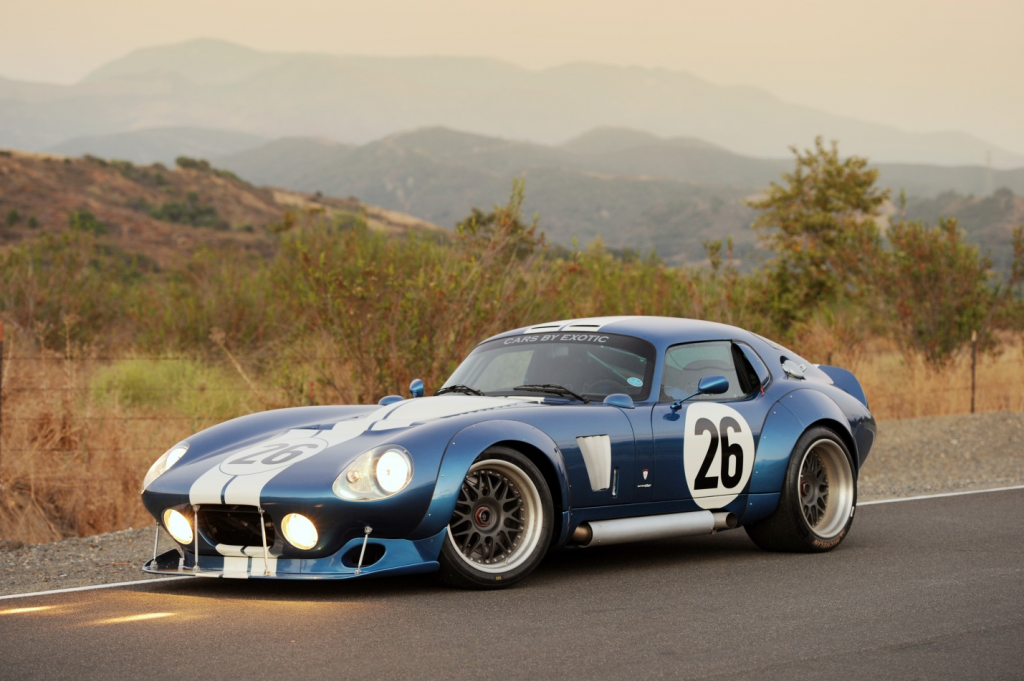 6-point roll cage
Lightweight wheels with 2.5-inch locking nut
14-inch, 6-piston brakes front, 13-inch, 6-piston brakes rear
Carbon fiber front splitter and rear diffuser
A/C delete
Carpet delete
Full race seats with 6-point harnesses
Quick-release steering wheel
Dash-mounted programmable ignition module
Dash-mounted brake bias controls
Shelby aluminum block 351 V8 bored and stroked to 427ci
560 horsepower and 530 lb-ft torque
Tremec TKO-600 transmission
Full dry sump lubrication system.
The Daytona Coupe LeMans edition is available in kit form and start at $59,995.00 where the LeMans GTR is only available as a complete car.
Robertsham Daytona LeMans Edition Coupe
Basic Kit
Fullkit (Turn-key car minus Engine & Transmission)
GTR (Spec Race Car minus engine and transmission)
Chassis
Steel D.O.M. Tubing with Aluminum firewall and close out panels
Included
Included
Included
Ford Engine Mounts
Included
Included
Included
Chevrolet Engine Mounts
Included
No Cost Option
No Cost Option
Suspension
Tubular upper and lower A-Arms front
Included
Included
Included
Tubular upper and lower A-Amrs rear
Included
Included
Included
GM Tie Rod and Balljoints
Included
Included
Included
Coilover Shocks
Included
Included
Set Coilover Springs
Included
Included
Set GM Corvette Wheel Bearings
Included
Included
Included
Steering
Powered Rack and Pinion with Tie Rod Ends
Included
Included
Included
"D" style Collapsible Column-Tilting
Included
Included
Included
350 mm Mono Racing Suede Steering Wheel.
Included
Included
Shifter assembly and cables
for Porsche transaxle
Included
Included
Brakes
Six Piston Front Brake Calipers
Included
Four Piston Rear Brake Calipers
Included
Six Piston Front High performance Brake Calipers
Included
Four Piston Rear High performance Brake Calipers
Included
14″ Front Rotors
Included
13″ Rear Rotors
Included
15″ Front High perfomance Race rotors
Included
14″ Rear High performance Race rotors
Included
Wheels
10″ x 18″ Front
Included
Included
12″ x 18″ Rear
Included
Included
18 X 35 x 285 Front Michelin PS2
Included
Included
18 x 35 x 315 Rear Michelin PS2
Included
Included
Single center 2.5″ center nut.
Included
Included
Body
Nose, Tail, Roof, Doors
Included
Included
Included
Rocker Panels
Included
Included
Included
Nostril Panel Single
Included
Included
Included
Windshield
Included
Included
Included
Lexan Headlight Covers
Included
Included
Included
Side and Rear Windows
Included
Included
Included
Hinge Hardware
Included
Included
Included
Lighting
Pair Front High Beam Headlight
Included
Included
Pair Front Marker Lights
Included
Included
Pair Rear Tailights
Included
Included
Pair License plate Marker Lights
Included
Included
Electrical
Wiring Harness With Integral Fuse Box And Relay Circuits
Included
Included
Gauges
220 MPH Speedometer
Included
Included
8,000 RPM Gauge
Included
Included
Fuel Level Gauge
Included
Included
Voltmeter
Included
Included
Oil Pressure
Included
Included
Coolant Temp
Included
Included
Oil Temp
Cooling
Aluminum Radiator
Included
Included
Pair Electric Cooling Fans
Included
Included
Accessories
Pair Door Handles
Included
Included
Included
Pair Door Latches
Included
Included
Included
Period Correct Fuel Filler Caps
Included
Included
Wiper Motor Assembly
Included
Included
Exterior Mirrors
Included
Included
Parking/Hand Brake Assembly With Calipers
Included
Included
Brake Line System Complete With Brake Light Switch
Included
Included
Brake Lines and Hoses
Included
Included
Drive Axles And CV Joints
Included
Included
Interior
Adjustable racing seat
Included
Included
Dash Panel
Included (no holes)
Included
Included
Pedal Assembly
Included
Included
Clutch Master Cylinder
Included
Included
Integrated Heater and AC System
Included
Included
Exhaust System (Mind Steel, Ceramic Coating optional)
Included
Included
Pricing
* Prices and specifications subject to change without notice
$59,995
$89,995
$139,995
Options
Chassis Coating (powder coated Black)
Included
Included
Right hand drive
No Charge
No Charge
No Charge
For more information on Robertsham please head over to www.robertsham.com