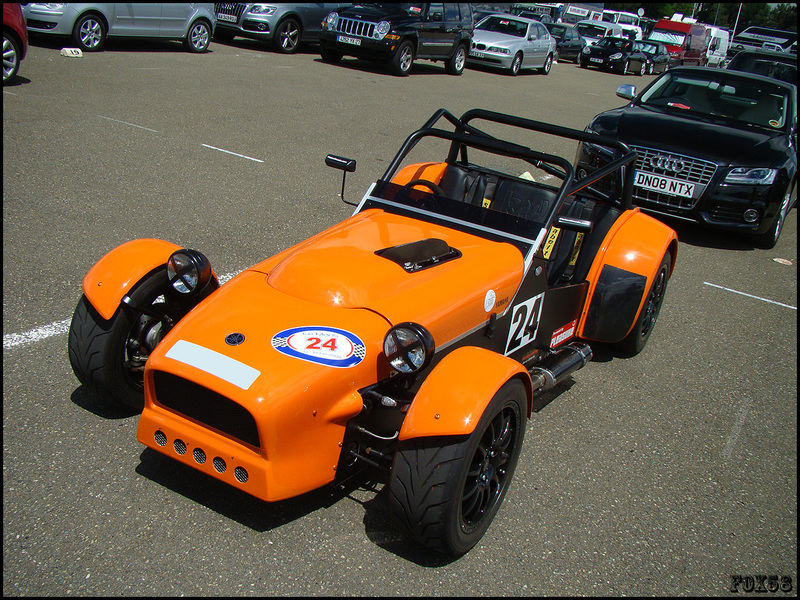 RAW was started in 1999 by Mel Coppock, and this was in an industry when all kit cars were pretty much using the ford Sierra's pinto engine and Raw were using the Toyota engine. By using the Toyota engine RAW was able to set it self aside from all the other kit car manufacturers and was seen as being ambitious and an innovator in the industry.
In 2002, Raw managed to get hold of the very much sought-after Striker, and this is why I am here today to talk to you about the Raw Striker kit car.
The Raw Striker use to be a Sylva Striker, but it was acquired in 2002 as I mentioned previously and it has similar styling to the Lotus 7 and Westfields but there is subtle body styling changes that I actually quite like and you can tell straight away that it's a Striker. Just take a look at the bonnet Bulge and that is to house the huge Toyota 4AGE engine.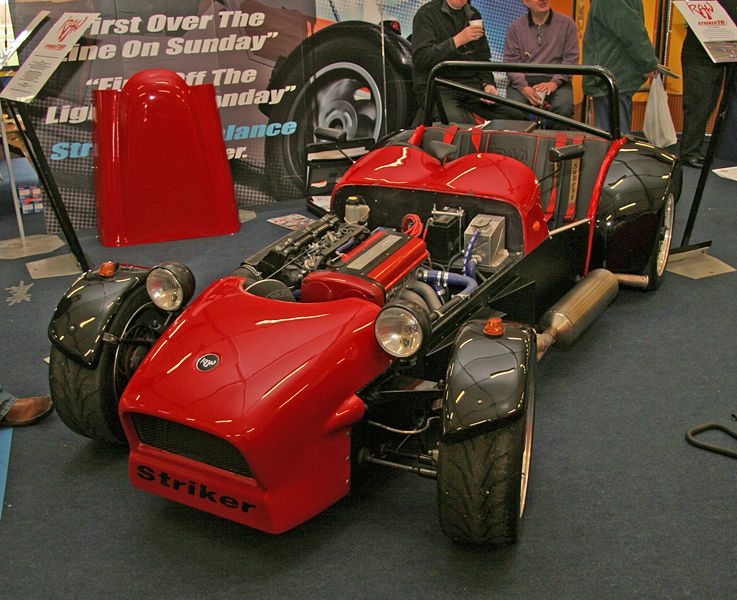 The Raw Striker is very much like the Lotus 7 and Locost kit cars to build in the sense that the chassis is of tubular construction and is available already welded up, and so you can be sure that the chassis is all square and of course safe. We all know that you can get a rough weld right in the pit of the chassis and if your lucky enough to spot it before it fractures then you will have a nice job of trying to weld it up and repair it, but if you don't spot it, and it fails which it will do at the most inconvenient time, normally going deep into a fast right hander, then it could end in a disaster.
As you can tell I don't trust my welding, I have never been taught properly, and I have had a few welds crack on me, so I tend not to do any welding that could put my life in danger or any risk to anybody else.
So let's get down to what you all are after and that is more information on The Raw Striker Kit Car…
If you are buying the Striker Kit from Raw directly, then they can help you choose the engine, and they will give you all the advice and help you need but here are the options available.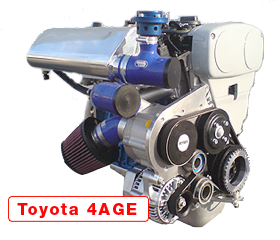 Raw offer the Zetec engines as a standard fitting in all of their kit cars as they have found it very difficult to get the Toyota 1600 4AGE 16v and 20v engines out of Japan for a price that is competitive enough, however, you can still find the engines around the UK so its not all bad. The Toyota 4AGE engine is the beast of an engine that is in the MK1 MR2's and the Toyota Corolla GTi but because the 4AGE engine is going in the very lightweight striker, it performs exceptionally well and really does kick you in the back when you put your foot down. However, if you are mad enough to even consider it RAW will also supply you with a supercharger kit, which simply turns a mental engine into a stark raving bonkers power plant that should ensure the smile never leaves your face.
So if you don't fancy the Toyota engine, you could just go with the tried and tested Zetec engine that are quite literally "turn key" solutions. The engines are all hot run on a test rig and throttle bodies balanced, and the cams run in and the emissions are even set up.
The Zetec engines are available with lots of different up[grades and can be added to the basic engine later on depending on how much of your pocket money you want to spend, and you can choose from various power outputs that range from a very respectable 140 bhp to the 220 bhp monster that Complete Kit Car has named "Weapons Grade"
The power offered by the Toyota 4AGE engines is in a range of 122 – 220 bhp+ and they can rev to a back tingling 8500 rpm and are a very smooth, powerful and reliable engine and they look absolutely amazing in the engine bay of any car no matter if it is a kit car or an MR2.
It's a shame that RAW is finding it difficult to get a regular supplier of the engines, but that is just the way it goes when there is a fantastic engine its very sought after which invariably drives the price up, but RAW will do their best to help you source an engine if you do choose to go down this route.
We have established that the Raw Striker is going to be quick with a Toyota or Zetec power plant but how is it going to handle? Well, because the Striker is very similar to the Lotus 7 kit cars, you can take a wild guess that it is going to be very much the same and just by doing a quick youtube search you will soon see that the Striker is a popular track kit car, and this only can mean one thing, and that is that it's fantastic to drive around a track 🙂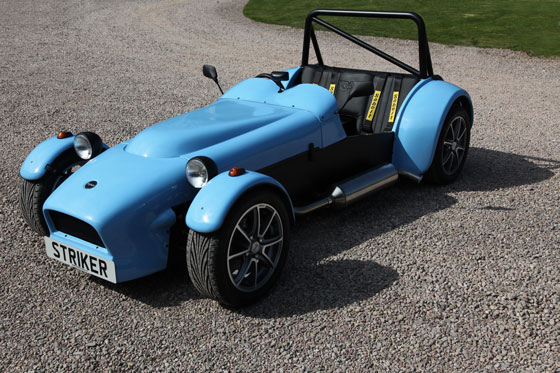 With the engine behind the front wheels and powering the rear wheels you have a fantastic mid engined car that will handle exceptionally well and will provide you with heaps and heaps of fun in all weather conditions. The length of the Striker will give you a nice balance and smooth ride which also help you control the power of that Toyota engine.
SO how much does the striker cost to get on the road?
You could have RAW engineering build you one and have it ready for the road from about £ 17,500, and that gives you a lot of performance and fun for your money, or you could go down the route that I would always recommend and that is to build it yourself. Although you could end up spending more money but with all kit cars, the most fun is normally had building it and then there is the satisfaction of driving it down the road for the first time once it has just been road registered.
So if you wanted to build it yourself, you will need about £13,000 and that will provide you with almost everything you will need to build a RAW Striker and get it on the road. You will have to buy the odd nut and bolt here and there, and it obviously does not include the tools you will need to build it.
If you would like to see what is involved with actually building one, then here is a link to the RAW Striker build manual and there are lots of videos on Youtube that can show you I detail what is involved in the building process.
Building any kit car can be very expensive, and you will need an endless pot of money if you want to build it to a high standard but the good thing about kit cars is that you don't have to spend all the money at once, you can just buy the parts as and when you need them and this is what makes building a kit car very attractive as you don't really notice how much money you are spending, you only spending it as and when you can afford to.