At the 24 Hours of Daytona, the Porsche 911 RSR fielded by the Porsche North America works team tackles the highly-competitive GTLM class from the first grid row on Saturday. For the inaugural race of the new Tudor United SportsCar Championship on the Daytona International Speedway, Porsche factory pilot Nick Tandy (Great Britain) posted the second quickest qualifying time. The Briton shares driving duties with his works driver colleagues Richard Lietz (Austria) and Patrick Pilet (France) at the sports car classic in Florida. Porsche works driver Patrick Long (USA) qualified the second 911 RSR on fifth place. Michael Christensen (Denmark) and Joerg Bergmeister (Germany) team up with Long to contest the race.
In the GTD class, the best Porsche 911 GT America takes up the race from ninth position. Joining forces with Porsche factory pilot Timo Bernhard (Germany) for the customer team Park Place Motorsports are Norbert Siedler (Austria) and the Americans Craig Stanton and Jim Norman.
Hartmut Kristen, Porsche Head of Motorsport: "The GTLM class qualifying result underlines just how close the competition is in this category. Only seven-hundredths of a second separate the first and second spot. That's pretty intense and it promises an action-packed, tough race right to the flag. Teams and drivers can't afford to make the slightest mistake and the technology needs to work perfectly so that the cars are completely operational for the final one or two hours. I'm very pleased with the qualifying."
Nick Tandy (#911): "We'll start the race on the Michelin rubber that we used in qualifying, so we had to be careful not to overtax the tyres today. That wasn't easy, because with the cool weather they took relatively long to reach the right temperature. So we had to find a good compromise. The car ran well and this qualifying was a great start into the new season. I'm happy."
Patrick Long (#912): "Today was like a game of chess. I got involved in a slipstream duel with one of the Corvettes. It actually went quite well, but in the last lap we had a little tussle and I couldn't improve on my time. I had hoped that we would qualify where we had spent most of our time, namely in the top two. But when you consider how new our team is and how much experience our opponents have here in Daytona, we should be satisfied. The secret to success in the race will be to keep our noses clean and be there at the finish when it counts."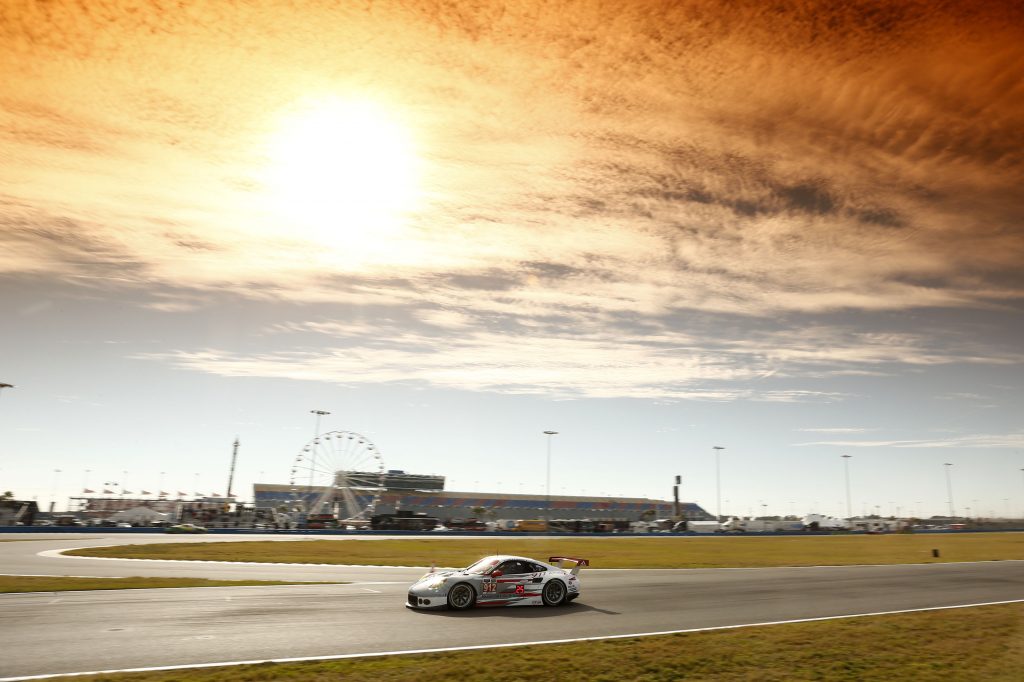 Qualifying result
GTLM class
1. Goossens/Farnbacher/Hunter-Reay (B/D/USA), Viper GTS-R, 1:44.506 minutes
2. Tandy/Lietz/Pilet (GB/A/F), Porsche 911 RSR, + 0.076 seconds
3. Bomarito/Bell/Wittmer (USA/GB/CAN), Viper GTS-R, + 0.111
4. Gavin/Milner/Liddell (GB/USA/GB), Chevrolet Corvette, + 0.223
5. Long/Christensen/Bergmeister (USA/DK/D), Porsche 911 RSR, + 0.240
6. Turner/Mücke/Lamy/Stanaway/Della Lana (GB/D/NZ/CAN), Aston Martin, + 0.933
7. Edwards/Müller/Rahal/Werner (USA/D/USA/D), BMW Z4 GTE, + 1.161
8. Priaulx/Auberlen/Hand/Martin (GB/USA/USA/B), BMW Z4 GTE, + 1.166
GTD class
1. Haase/Miller/Rast/Bell (D/USA/D/GB), Audi R8 LMS, 1:46.973 minutes
2. Vilander/Balzan/Case/Westphal (SF/I/I/USA), Ferrari F 458 Italia,
+ 0.055 seconds
3. Jarvis/Walter/Putman/Espenlaub (GB/USA/USA/USA) Audi R8 LMS + 0.077
9. Siedler/Bernhard/Stanton/Norman (A/D/USA/USA), Porsche 911 GT America, + 0.381
13. Lieb/Dempsey/Foster/Davis (D/USA/USA/USA), Porsche 911 GT America, + 0.516
14. Bamber/Blum/Zitza/Imperatori (NZ/USA/USA/CH), Porsche 911 GT America, + 0.588
15. Lally/Henzler/Potter/Dumolin /USA/D/USA/CAN), Porsche 911 GT America, + 0.599
The Tudor United SportsCar Championship
The new sports car race series contested in the USA and Canada was created from the merger of the American Le Mans Series and the Grand-Am Series. Sports prototypes and sports cars start in four different classes: GTLM (GT Le Mans), GTD (GT Daytona), P (Prototype) and PC (Prototype Challenge). The Porsche 911 RSR runs in the GTLM class, with the Porsche 911 GT America contesting the GTD class.