I have been a Porsche fan since a very early age. my uncle came home from work one day with a Porsche 993 and he took me out for a spin in it and I remember going round the roads near my parents house at warp speed and clinging on for dear life as my uncle giggled as the back of the cat twitched and skipped through the corners. It was breathtaking and it has always been a car that I have said one day I will own.
Well I have got to that stage in life when business is good and I want to get on the supercar ladder and although the lotus Elise I test drove a couple days ago is by means a super car I was expecting a little more performance and so my search for a Porsche is finally back on.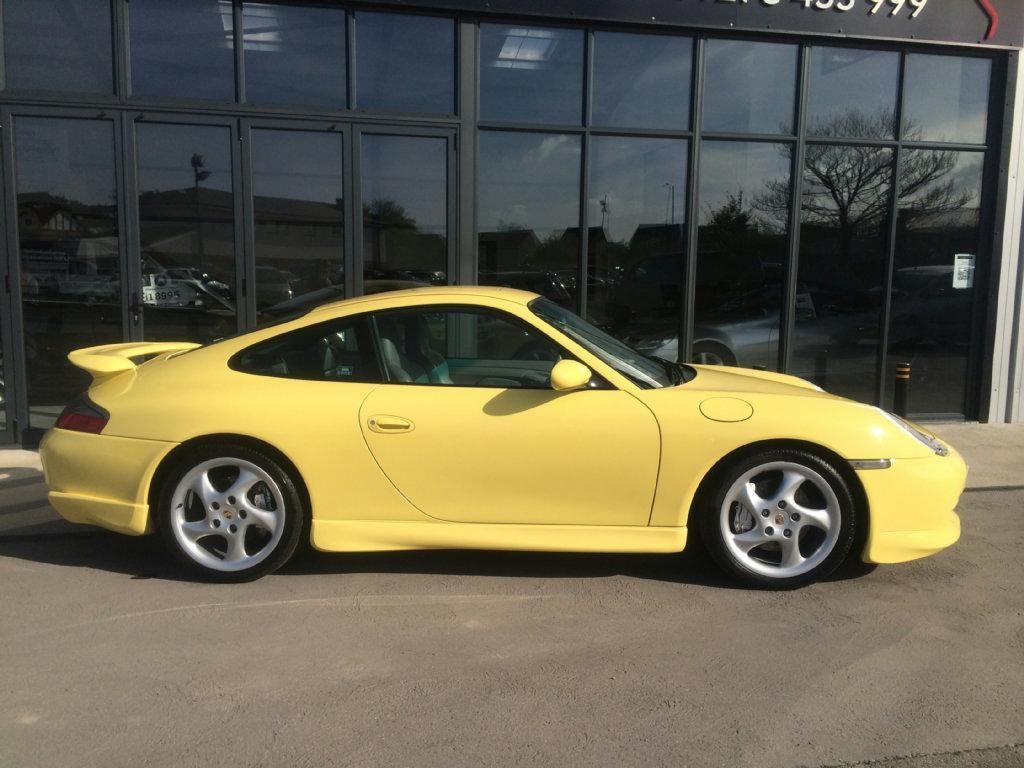 I have ebay notifications set up to notify me of any new cars and i always keep a close eye on autotrader and on tuesday I saw a 1999 Porsche Carrera 4 turn up on ebay and it had only done 37,000 miles. Yes it was a bit older than I wanted and to be honest not as much money as I was expecting and after a quick phone call to the garage that was selling it I was quite convinced that this car was going to be coming home with me.
I started the google search to find out all of the information I needed to know about buying a use Porsche 996 and I started to see many many horror stories about the engines going bang and the Rear Main Seal (RMS) causing issues and I thought thats not too bad. If it leaks oil get it fixed asap and you should be all good. Then I carried on reading about the IMS…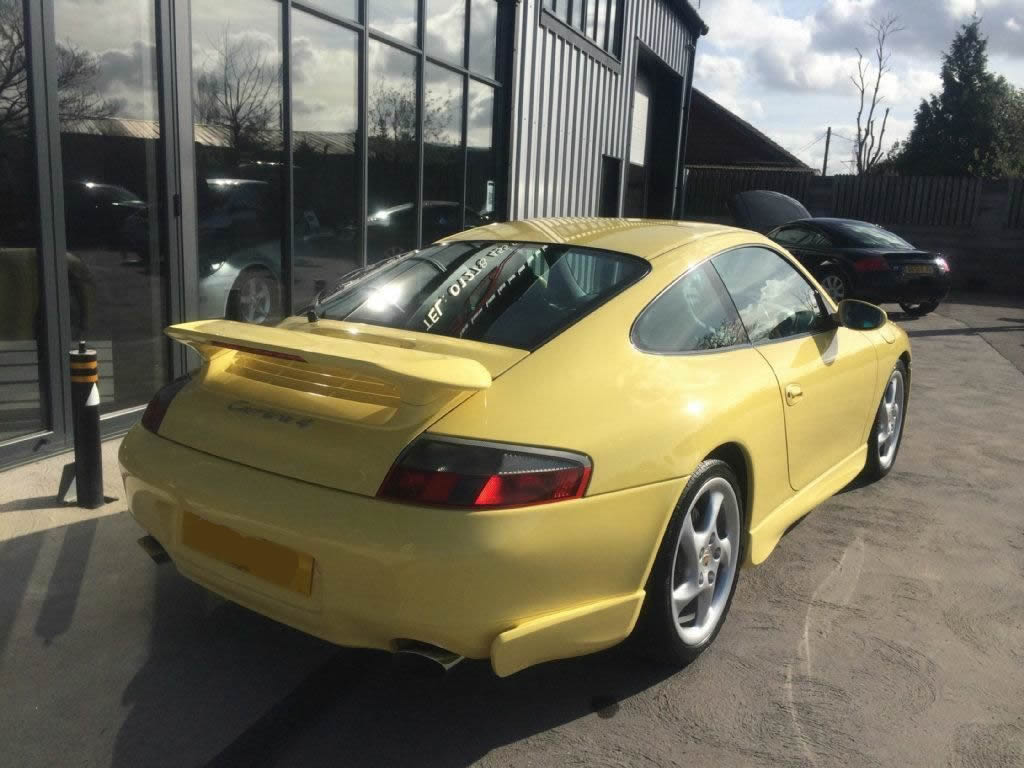 The IMS is the intermediate shaft and apparently its bolted together and when the bolts fail everything internally collapses and your then looking at a new engine.  This was a big risk as after further searches the engines on ebay are around £3k and your looking at at least £2k to get them fitted. The cost was not really the worry for me its the inconvenience of a breakdown and I have a kit car for breakdowns and I don't want another to add to the collection. 
I woke up early wednesday morning and spoke to 3 independent Porsche Specialists and they told me about things to look out for when buying a used 996 and they were very helpful they also said not to worry too much about the IMS problem as there are fixes you can do to prevent it from happening and also it only affects 5% of cars so its not as a big a deal as people are making out.
After I had got a list of things to look for I hit the road and drove for 4 hours and i got to the dealers 2 hours earlier than planned but this was deliberate as I like to see the car before its been prepped or warmed up as this is a good indicator of the condition and you can see how the dealers look after the cars.
I arrived and I was blown away by this Porsche Carrera 996 it was in a mustard yellow and had the GT3 body kit and looked awesome. I straight away got on my back and started poking around underneath and it all looked pretty good. The sills from what i could see looked fine and the floors looked well treated although a little dirty but that cannot be helped as it is getting to be an old car.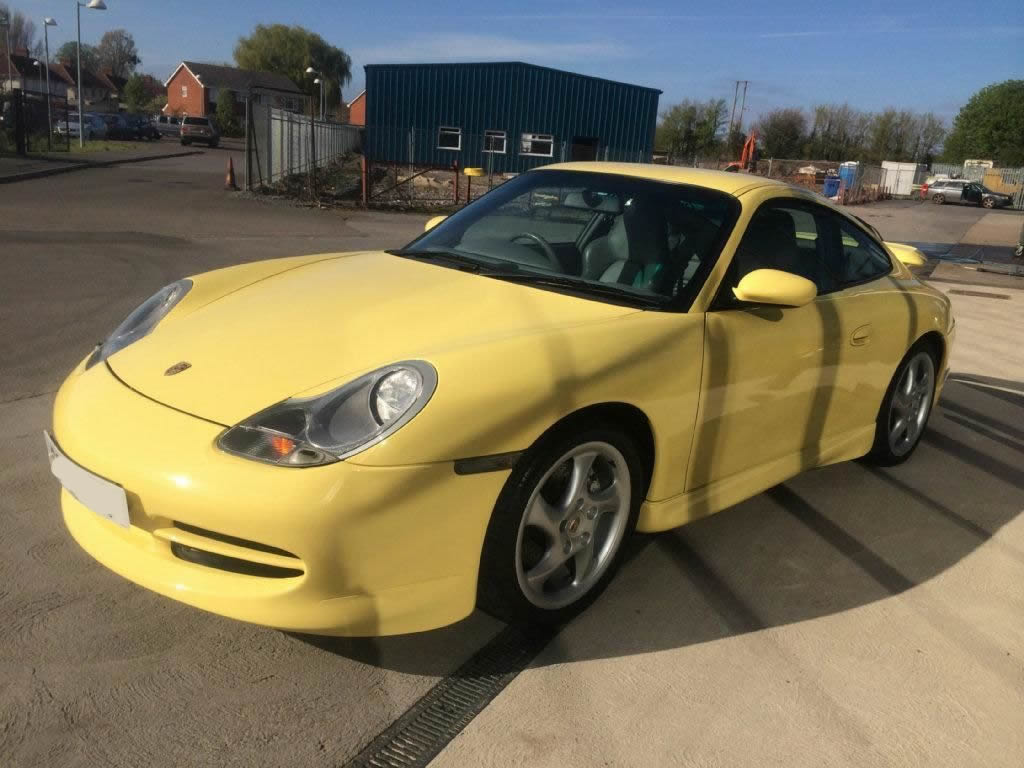 I looked underneath the back of the car and there was a lot of rust, the exhaust and all fittings were very rusty and that did concern me but the car did look like it had been well looked after. There was only one stone chip on the front and that had been touched in all be it quite badly but none the less it looked good.
The next thing to do was to go and look at the history of the car.So up to the offices of dealers and I was handed teh handbook and and that was pretty much all they had. Yes there were stamps in it but as far as history goes I was expecting receipts and what not. I decided that a handbook with service stamps in it was all fine but I wanted to look deeper and a quick phone call to the Porsche Centers that had done the servicing confirmed that the car had been serviced at those times and the mileage on the car did look to be genuine so that was a relief.
However, the service history stopped in 2009 and that worried me, so a few questions were asked and the dealer said the car had been in storage for that time and I thought that figures and there had only been about 5,000 miles since that service and it was a major service. After chatting to the owners of the dealership and then showing me pictures of their Ferrari 458 Italia that they had just bought it was time time to take this Porsche 996 Carrera 4 out for a spin.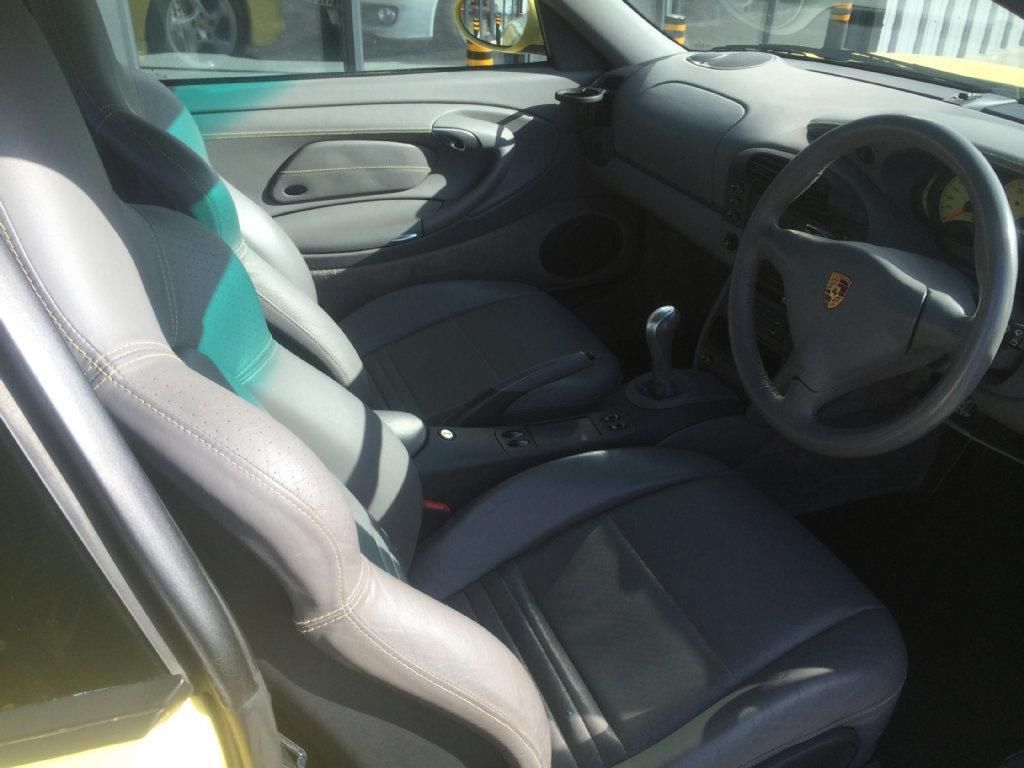 The dealer started her up and she sounded great and there was not any smoke and when she drove out of the show room there was not any oil on the floor which was handy… although there was lots of mud where i had been searching for that car eater… tin worm! The dealer drove out of the show room and I hopped in the passenger seat and after the dealer took her gently out of town I was listening for any knocks creaks or bangs and there was nothing… the gears were smooth and it was all looking good.
We got to a lay by where we switched and I hopped in the drivers seat. I spent a couple of minutes trying to get the steering wheel adjust as my knees where quite close and to be honest I was not comfortable. The seat was moved back all the way and i was a little cramped. I pulled away from the layby and was pinned to my seat… what a shed load of power this car has. I went through the bends fairly confidently and pushed it through a roundabout a little quicker than I realised and you couldn't wipe the grin off my face I was in love!!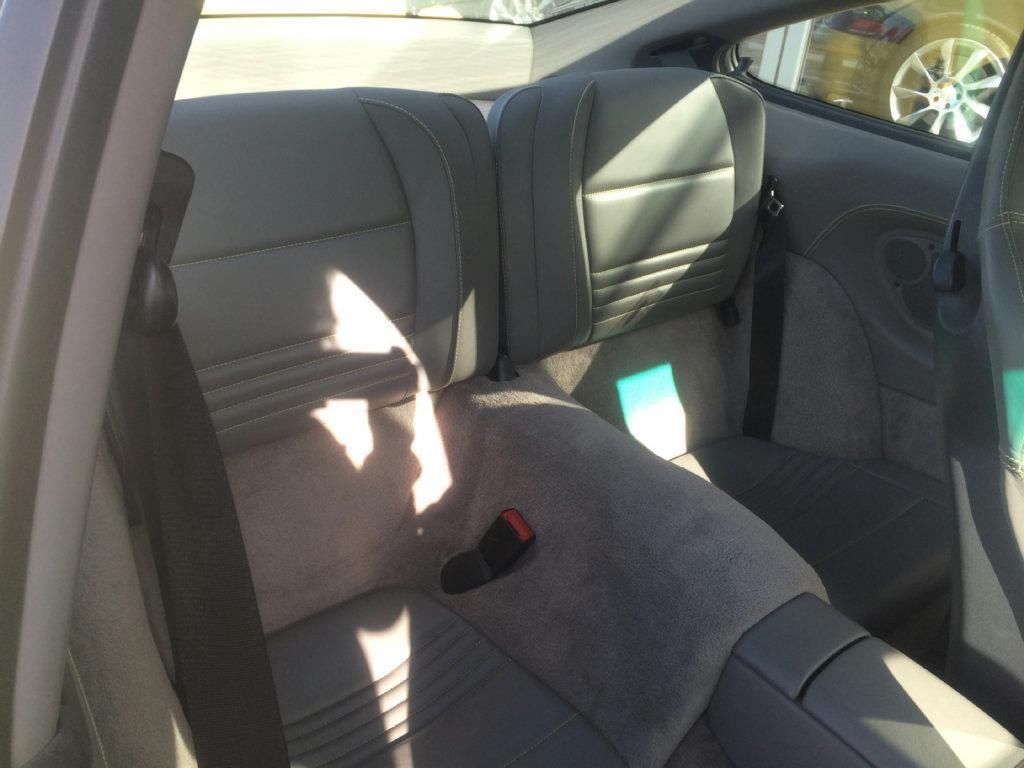 We eventually got back to the dealers and the dealer left me alone with the car I soon realised that the seat had a height adjuster on it and the seat plummeted to the floor and at last I had the leg room and could see out of the windscreen at last. I was kicking myself that i had not seen this before as it would have made a much better driving experience for me but hey ho.
Ok, so it was some time to make some decisions… Did I want the car?
Well my heart was saying buy buy buy but my head was saying she's getting old…. lots of rust in the engine bay… she's 15 years old… oh and then theres the IMS…. Oh boy!!
So I decided to call a few more independent porsche dealers and speak to them and although everything looked perfect there was a 5 year gap in the history and although it had been stored all of the porsche dealers said it still needed servicing because of the oil seals and most Porsche Owners are OCD about them and would get them serviced whether its been driven or not. This was ringing in my ears and I was desperate to do the deal as it was such a low mileage car and it was soo damn quick and it was yellow… oh god!!!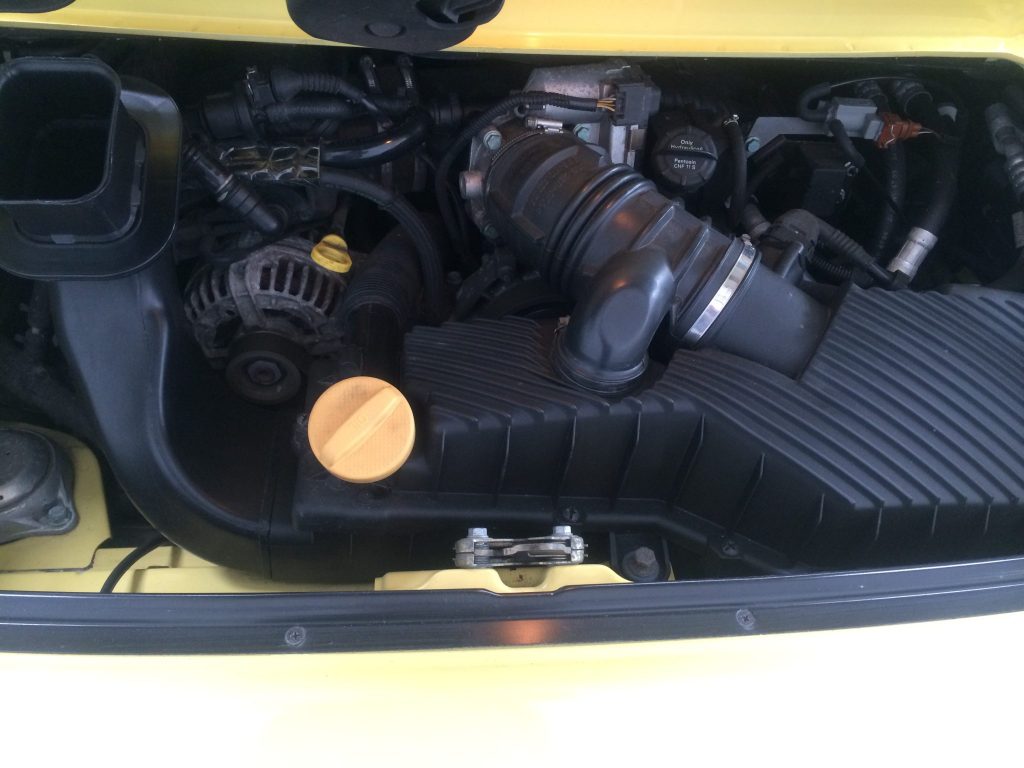 It was also a lot cheaper than I had planned on spending… but still none the less I had the dreaded 996 stories at the back of my head and I decided that I was not going to make any rash decisions and I was going to drive all the way back home and have a think. I have never loved a car so much and not bought it before it was a weird feeling and it haunted me all the way home.
So the verdict… the big gap in history was a problem the 996 reliability was also a problem and that was the biggest risks. I had also planned on looking at getting a Porsche from around 2005 onwards purely for the reliability factor and I know that I could by buy a very nice low mileage cayman s for