I was fortunate enough to be contacted by 3F EV a few months ago to see if I was interested in having a play in a Tesla Model S. Now as I had never even sat in a Tesla much less driven one, I figured it would be worth a day out at least to see what this car can do.
3F EV are a rental company that specialise entirely in the Tesla Model S, with the focus on providing their clients the very finest in sustainable motoring with a fleet of expertly maintained cars. All well and good – but it wasn't the Tesla's environmental kudos that had me in a sweat.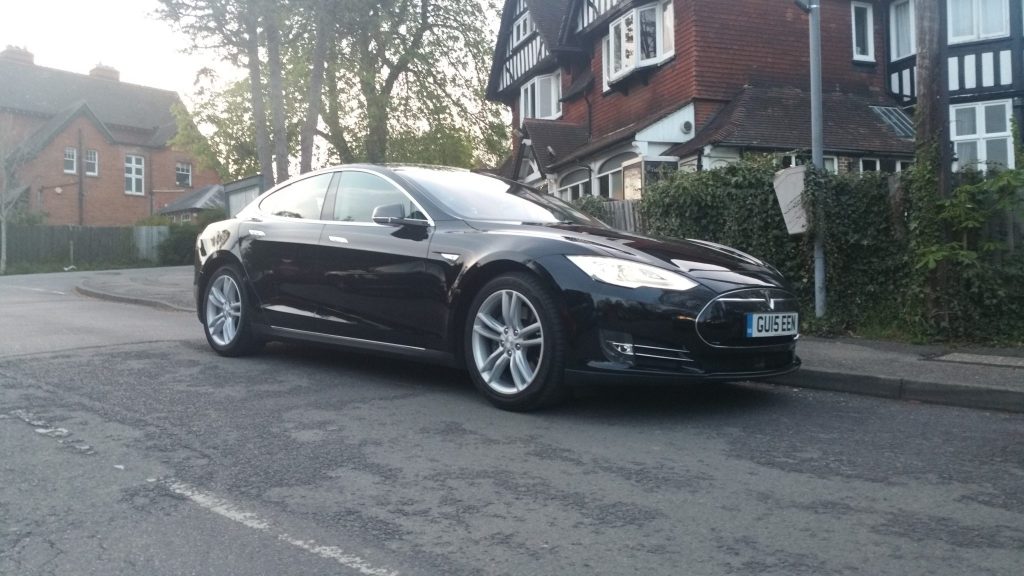 I picked up the Model S from Reigate on the Friday night, and left my lovely Z4 in their secure compound for the weekend. To say I was excited would be an understatement. I had spent the week perusing every manner of information on the Tesla, and the more I read and watched, the more excited I became. It has a long list of very impressive features, which I was keen to test out. Not the least of which was the Autopilot (more on that later), and the phenomenal 250 mile range from a fully 100% electric drivetrain.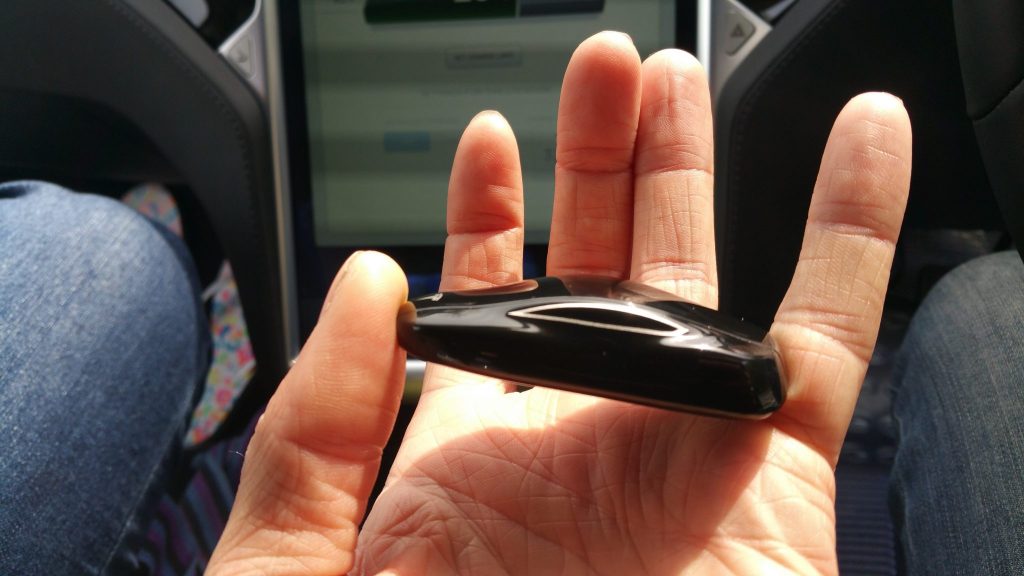 And then there was its party-piece – 0 to 60 in 2.8 seconds.
Yes, you read that right.
So myself and my wife leave the offices, and we are immediately aware of the eerie feeling pulling away without a sound. It felt like witchcraft. To have a car the size of a Jag XF or Mondeo move the way this does is remarkable – but will take some getting used to. My usual bread and butter of two-seater sports cars was a far cry from the lump of an exec I had in my hands. It was going to be an interesting weekend.
The first few miles were spent with me having a fiddle about with stuff and generally getting used to how the Tesla felt – and it was about this time that I was quickly reminded of that party piece I mentioned earlier.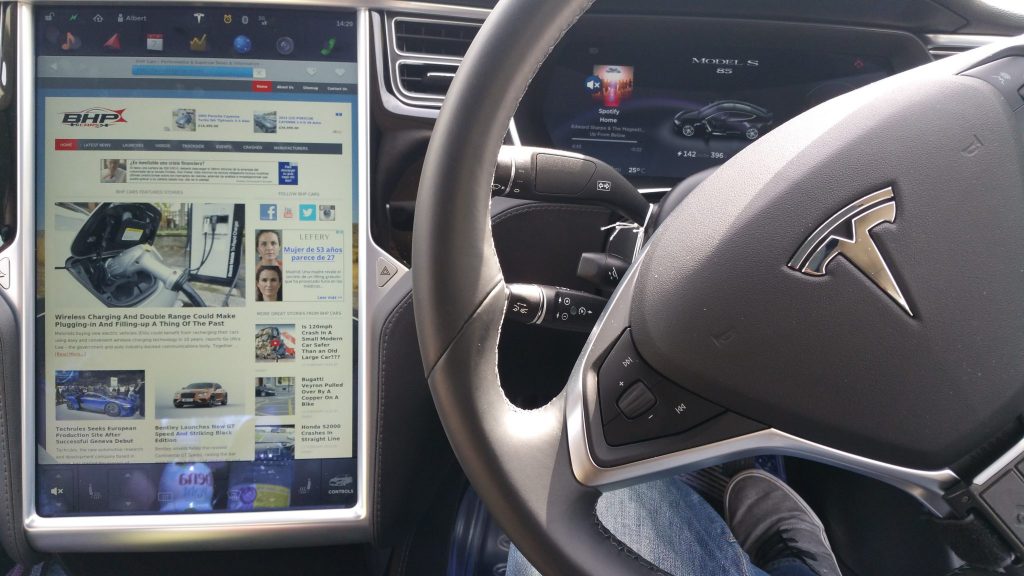 I needed to pull out of a turning in a hurry, so jumped on the throttle and boom, I was pinned to my seat and left whimpering like a dog does when you step on its tail. My response was "f**K that's quick!!" There has not been much that has ever made me say that, not least a from a 5-seater saloon car missing a combustion engine.
Myself and my lovely wife were soon on our way back to BHP HQ, and I decided that on the dual carriageway I would have a little play with the adaptive cruise control…. Ok, that works perfect – but I want to see what this auto pilot mode is all about.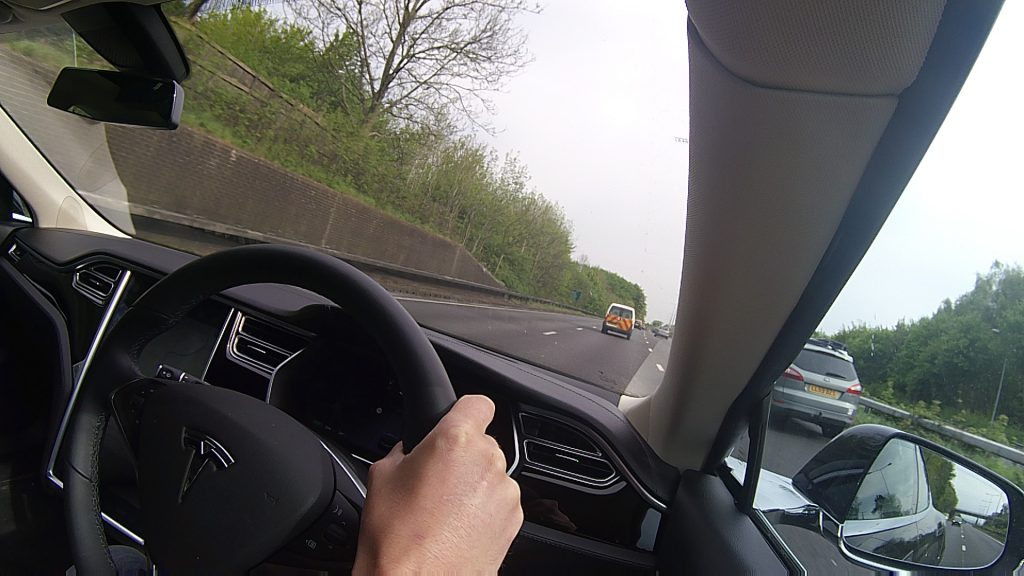 Right, we are now back to witchcraft again….
Two tugs of the stalk and autopilot mode was engaged, so I gingerly took my hands off the steering wheel as the Tesla took control. I was just sat there mouth wide open, puzzled as to what I was witnessing…. I was literally lost for words.
So the Tesla at this point was cruising along at 70 and then slowing down to the speed limits as and when, and then it would maintain a safe distance behind the car in front which is in itself pretty damn awesome, but when the Tesla is also doing the steering itself – even around sweeping bends – all the while keeping neatly within its lane…well, you cannot fail to be amazed.
At this point I was just stumped, because not only was it driving itself, it was also doing the dipping of the headlights as and when it needed to. I quite literally had to do nothing for the the entire duration. I sat there chatting to the wife eating food and drinking soft drinks while the 3F EV Tesla was driving us back to BHP HQ.
Jane was feeling really sick by this point and was not liking the Model S in any way shape or form. She was now sat in the front seat in silence, with her eyes closed and looking very green. I was a bit disappointed that she felt that way – it was a very strange feeling as the ride is extremely smooth.
The following morning, I am woken up bright and early and opening up the Tesla phone app from my bed, I could see how much charge was in the car and even decided to cool the car down before I got in it – all from the mobile app which is smart.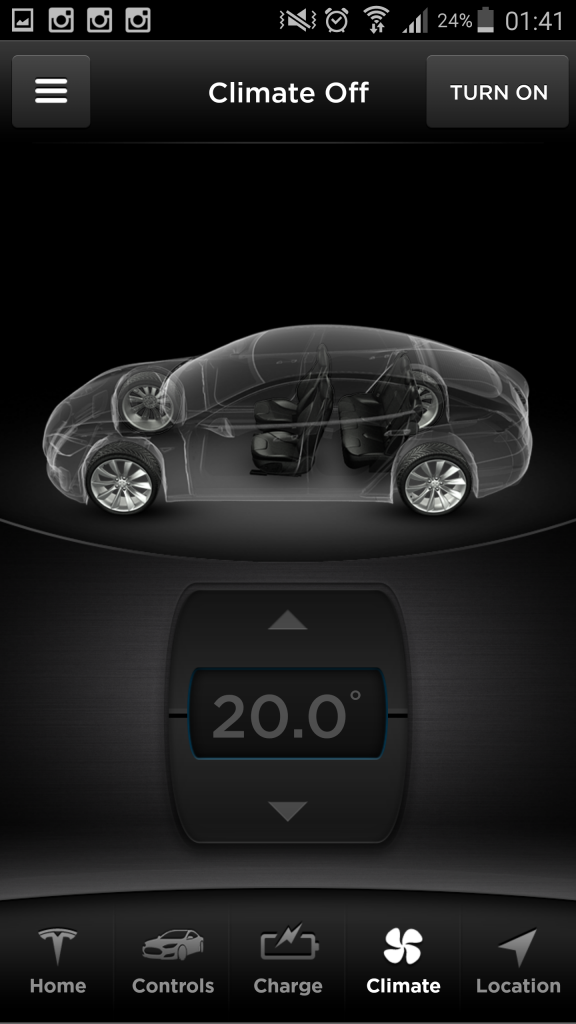 Today we had a plan, and that plan was to get to a Tesla Supercharging station and see what this car can do and generally try and get the whole Tesla experience.
My nearest Tesla supercharger was in Winchester, so instead of heading straight up the A27 I decided to take the long and twisty route and generally use as much fuel… uh, energy… power – as possible, and see how quick it takes the Tesla to top up when I get to the charging station. I was on a suicide mission, and relying solely on the Tesla on-board computer to get me to a charging depot – might prove embarrassing should I not find one.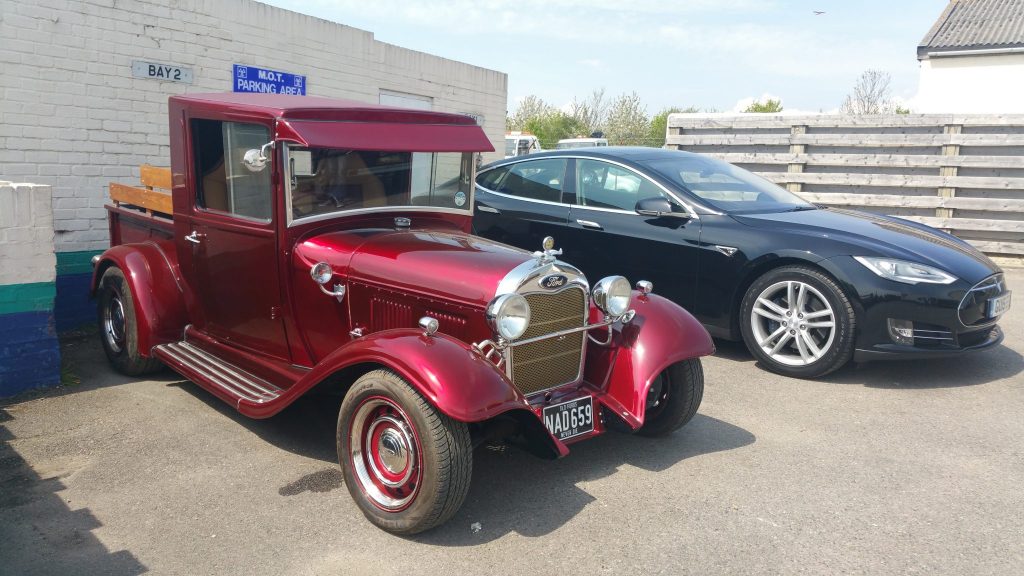 I want to point out that I had to bribe Jane in coming out with me again as the car made her feel very ill, and I was half expecting to drop her off home a few miles in however she was doing ok and actually survived the journey to Winchester.
The Tesla Supercharger was in a Sainsbury's car park. I parked up next to another Tesla Model S owner and I started filling… charging her up. It was in fact really easy to do; just a matter of lifting the plug off the charger, and click, it was off.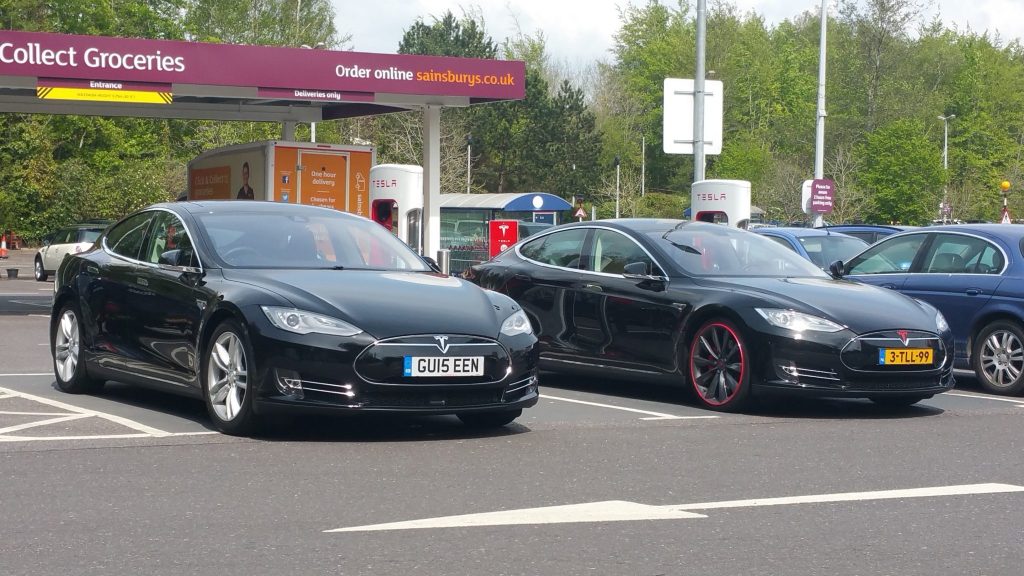 The other owner left about 5 mins into us getting there and straight away we see another owner arriving, this time they had driven their Model S from Holland and were doing a tour of the UK, which filled me with confidence that the electric vehicle is now capable of doing such journeys. All-electric range has certainly improved.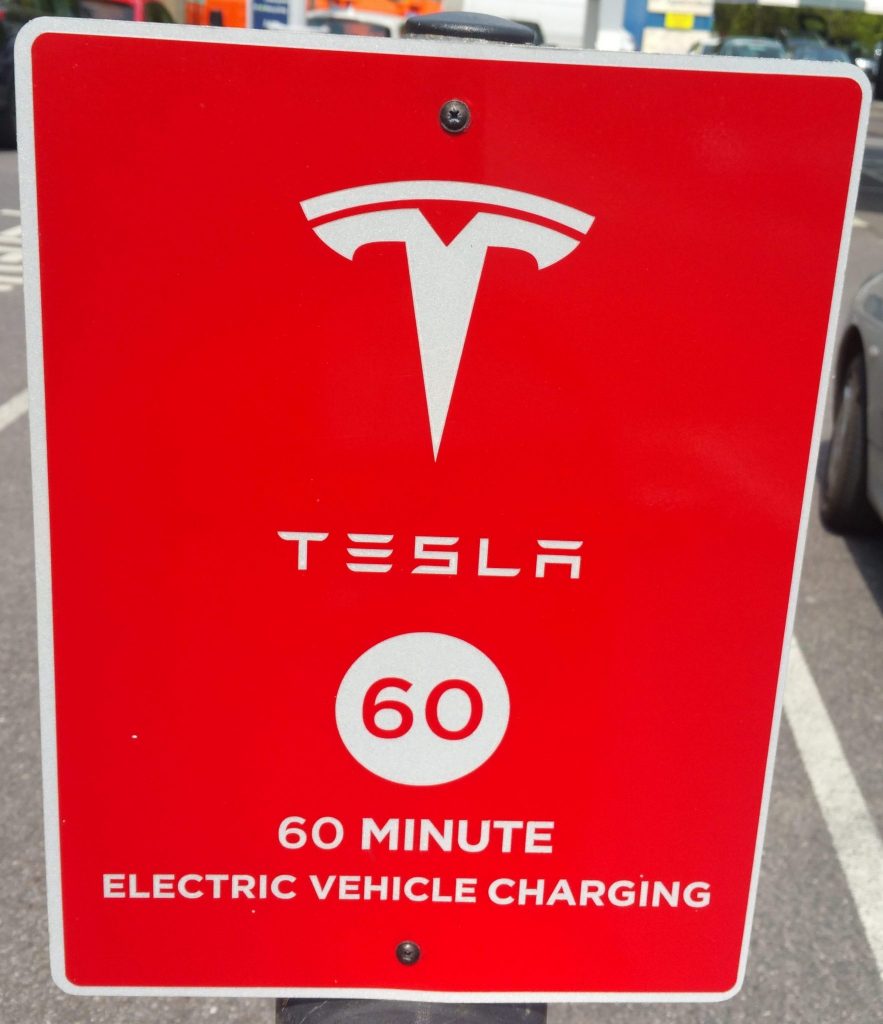 One of the things that the owner of the Dutch Tesla pointed out was that if you have two Teslas charging from the the same charging point, then only one gets full power charging and the second car to connect only gets about 80amps which is not a massive amount. The dutch chap asked if we would disconnect and let him be the first to connect so he could get on his way quicker. I of course obliged and we headed into Sainsburys to get some lunch.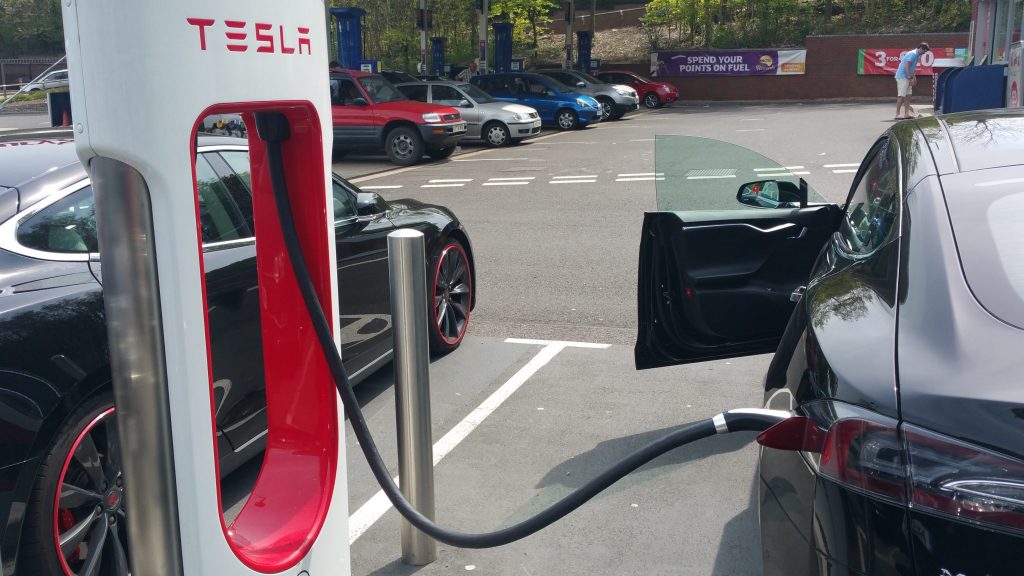 When we came out, another Tesla owner pulled up, making this Tesla number 4 in the car park, which had by this point attracted quite a crowd, with people walking over wanting to chat and ask questions about the Model S. Pretty cool if you ask me.

So picture the scene…I am sat near a petrol station watching normal motorists handing over their money for fuel whilst filling up with free electric – and then a £20 note just wafts its way over to me on a breeze. You could not make it up – filling up with free juice that would have likely cost around £40 in equivalent petrol, and I pick up twenty notes. Like winning the lottery.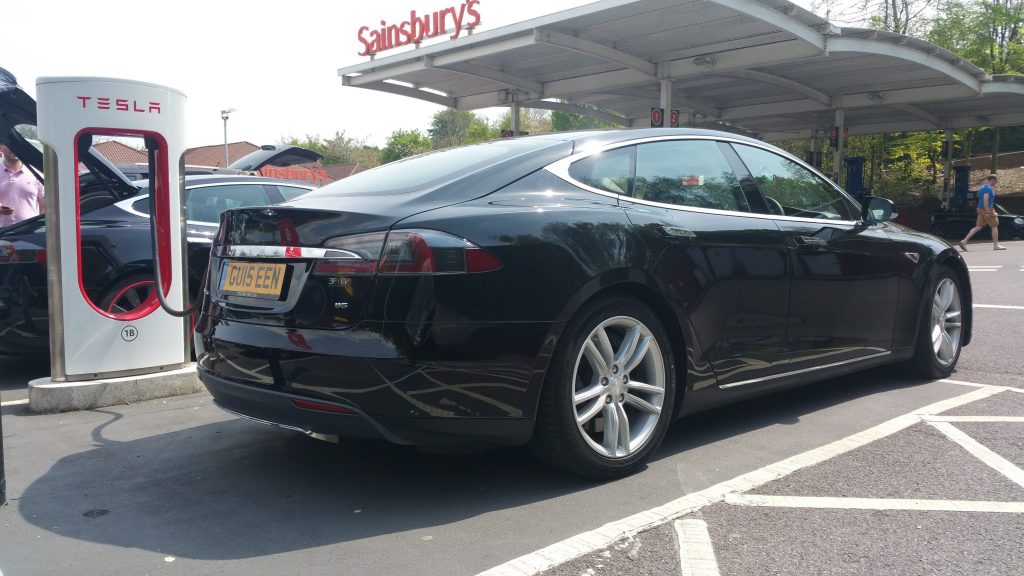 After about an hour of chatting to various Tesla owners through a spot of lunch, the car is full of juice and ready to rock, so we get ourselves back on the road again.
It must about 2 in the afternoon, and I bring up the subject of the Tesla to my lovely wife Jane to get her take on the car now that she no longer seems to be whining about feeling sick and so on. In fact, she is downright cheerful. So what next comes out of her mouth shocks me.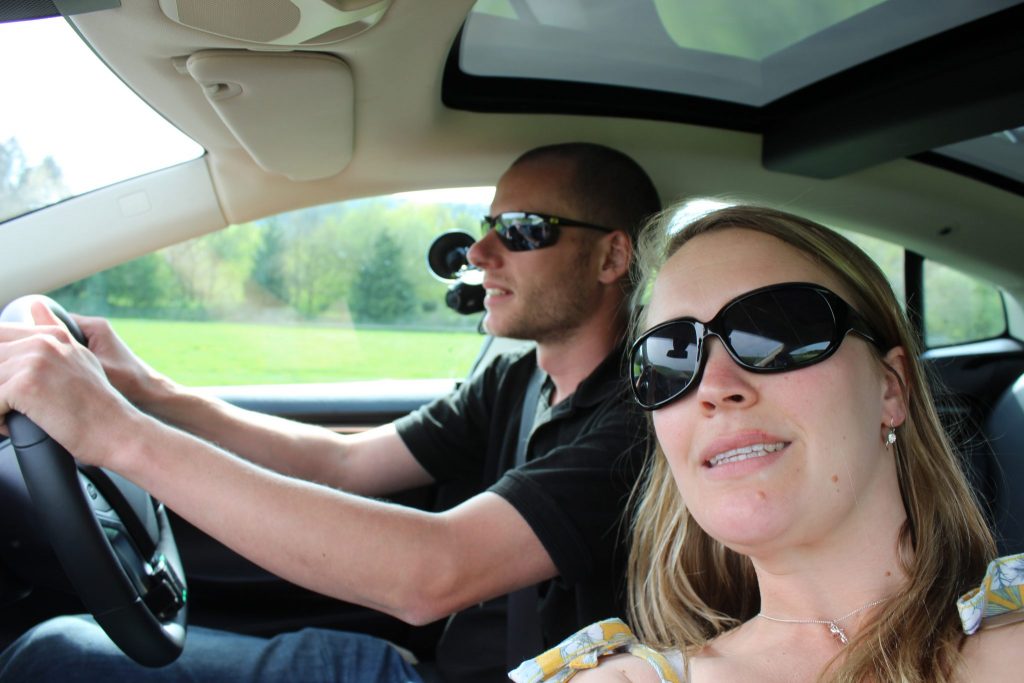 Jane has only been on various used car sites looking for second-hand Teslas, and is seriously considering one to replace her existing shopping box. I was blown away – if not for the autopilot I might well have ploughed us into the nearest local scenery out of shock. Going from almost refusing to get back in the car this morning to actually considering spending her hard-earned wedge on one within the space of half a day was remarkable. Talk about a mental turnaround…
So then, acceleration.
I have mentioned earlier that the Tesla Model S is quick but hadn't elaborated on just how quick. well we already know the 0-60 time, but to you that may as well be the time as you don't realise how quick that is till you are strapped in.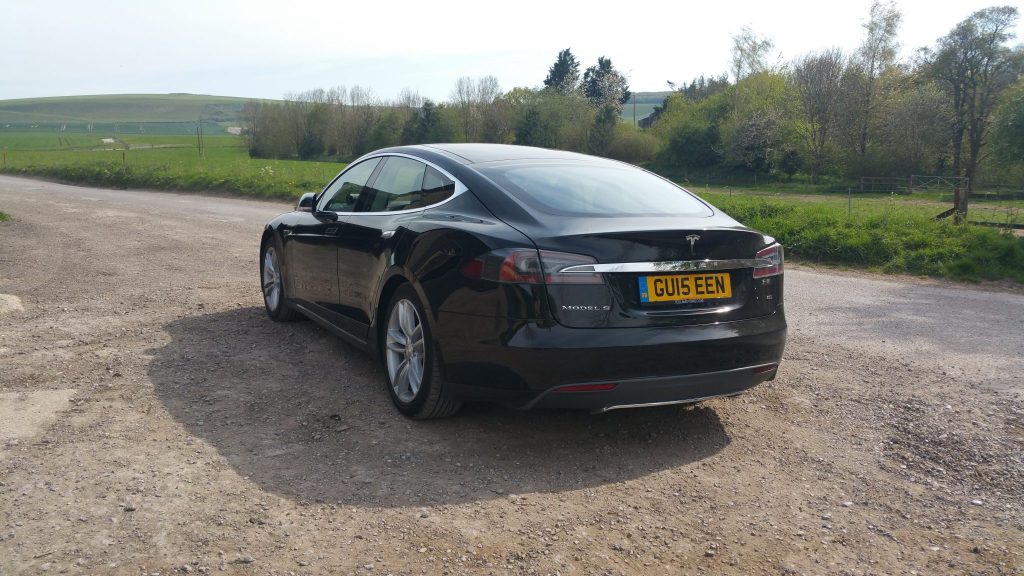 My motorbike is a 1200cc adventure style bike and that does 0-60 in 2,9 seconds, but this car was quicker and it is a different kind of quick, and I mean different because it is smooth and quiet… all you hear is the sound of the tyres scrabbling for grip and and your mind going oh b*llocks…
I had the opportunity to take the Tesla out onto a big open space on private land where I could have a bit of a play. It was out here that I got to really sample the incredible, instantaneous torque from the electric motors. It literally did pull like a freight train, and was equally impressive at stopping – I couldn't have gotten it stopped quicker if I had hit a brick wall.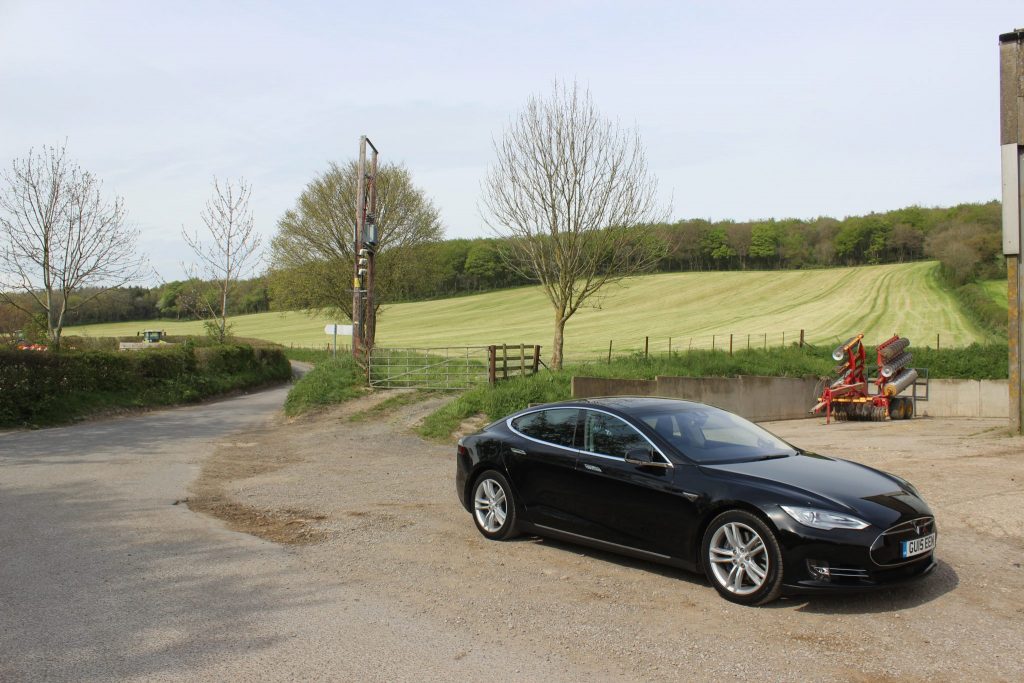 Taking People Out For A Spin In The Tesla
Part of the fun of having a car for the weekend that is a little bit different is taking people out for a spin in it – and seeing as there were no petrol costs I had no excuse…
I must have taken 25 people out for spins over the weekend and everyone got out of the car and said f*ck me that's quick and then shut up… yes they were left speechless. Every single person that clambered into the passenger seat was shocked at how quick it was, how quiet and how smooth.
How Far Can I Go On A Fully Charged Tesla Model S?
If you fill up the battery fully then you are looking at about 300 miles, but this totally depends on how hard you drive it I had charged it up to about 85% and I was getting about 240 miles. With that said, I was not concerned about mileage and I was really giving it the beans, so 300 miles seems to be perfectly reasonable.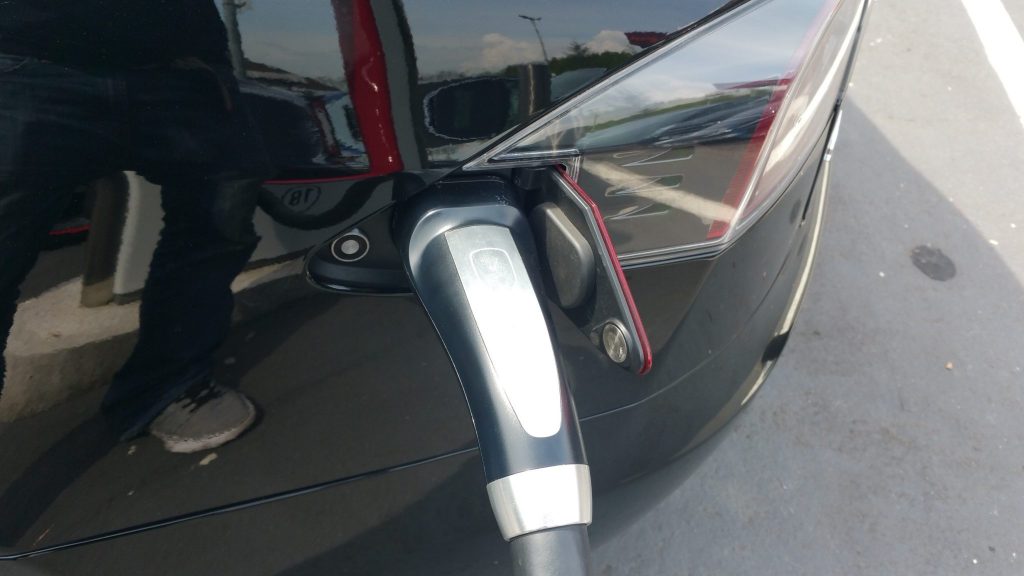 Can I Charge The Tesla Model S At Home?
Yes, you can charge your Tesla Model S from a 3 pin 13amp plug – but it is a long slow process and from flat it can take 40 hours to fully charge it. However, we found that it easily kept the battery topped up nicely by plugging it in every night, and as long as you use a supercharger on long journeys there is no real reason to ever run low on charge.
Is The Tesla Model S Comfortable?
Erm… yes… this is like driving a 3 piece suit about. The seats were comfortable and they hold you in when you are being enthusiastic in the bends but also allow you to relax totally on long journeys, and with all the driving aids like auto pilot you can really rest during long drives, so I would definitely say this is a big mile muncher.
There is a ton of storage space as there is no engine, so you have a boot in the front which is pretty damn big and the you have a boot in the back that is huge – but not only that, the seats in the back dont have the middle hump given that there is no transmission so the person that gets lumbered in the middle receives ample space as well.
How Much is The Servicing Of The Tesla Model S?
There is very little to service on the Tesla. According to the owners I spoke to all that Tesla wants is them to see the car once a year to make sure that the brakes are in good condition and the tyres are good. But bearing in mind you don't use the brakes other than for the final stages of stopping, these should outlast your conventional petrol engine brakes by a large margin.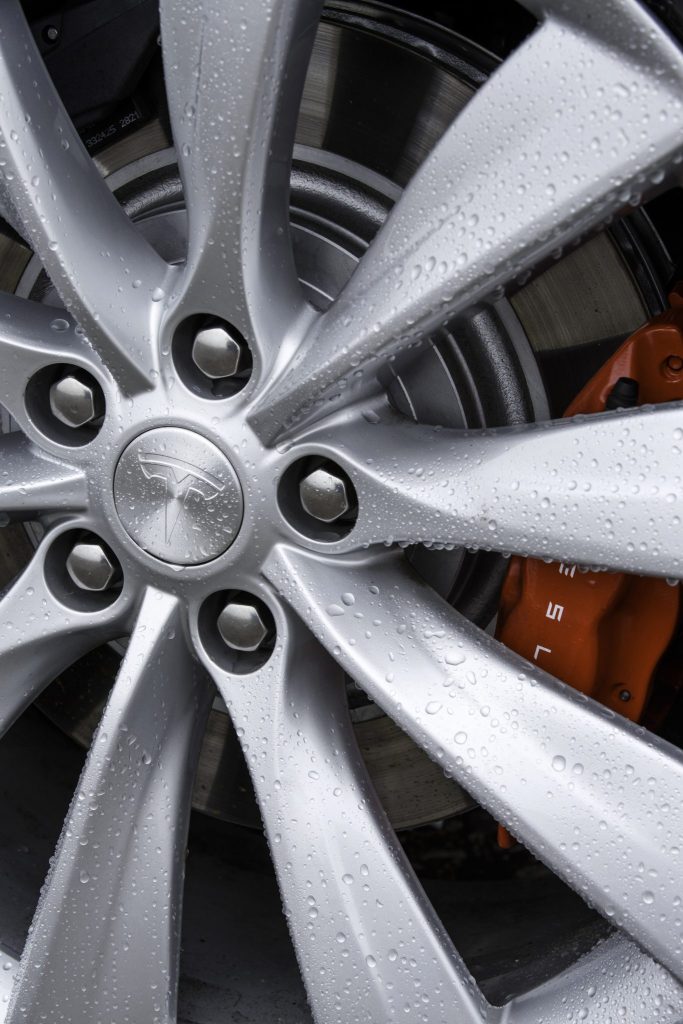 So servicing cost are as near to nothing as you can get to be honest.
Is it Expensive to Insure The Tesla Model S?
I am 32 years old living in a nice area with it stored on my driveway. I own my own house bla bla bla, so with a £500 excess I was quoted about £700 fully comprehensive which is not too bad considering you are looking at a car that is around £80K new and I pay £600 for for my BMW Z4 Coupe….
What Did I Really Think To The Tesla Model S?
I am an electric vehicle convert and I am puzzled as to where I go from here. I thought I would miss the urge of my straight 6 and I thought I would miss the noise it makes but everything else about the Tesla makes up for this, and to be honest within a few miles I could not care less that it makes no sound as it truly is a pleasurable drive.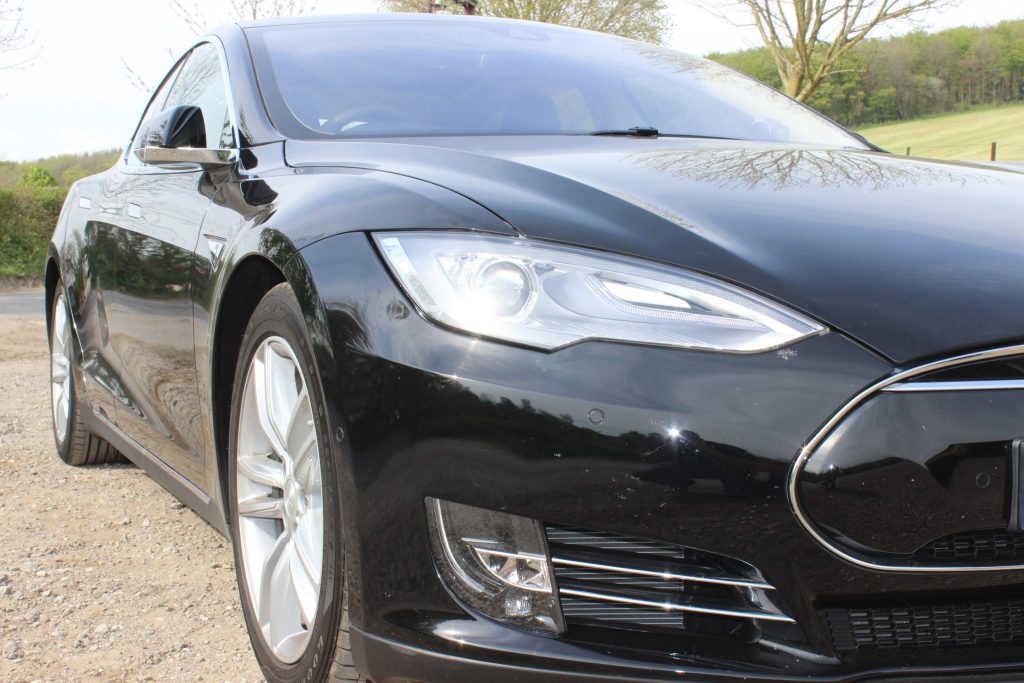 I would like to thank 3F EV for lending me the Tesla Model S for the weekend and I would like to say thanks for all the questions they answered for me, all of which were answered perfectly. Renting this car is like renting any other car but with 3F EV you won't get a fiesta, you will get the ride of your life and a car that you won't want to give back at the end of your trip.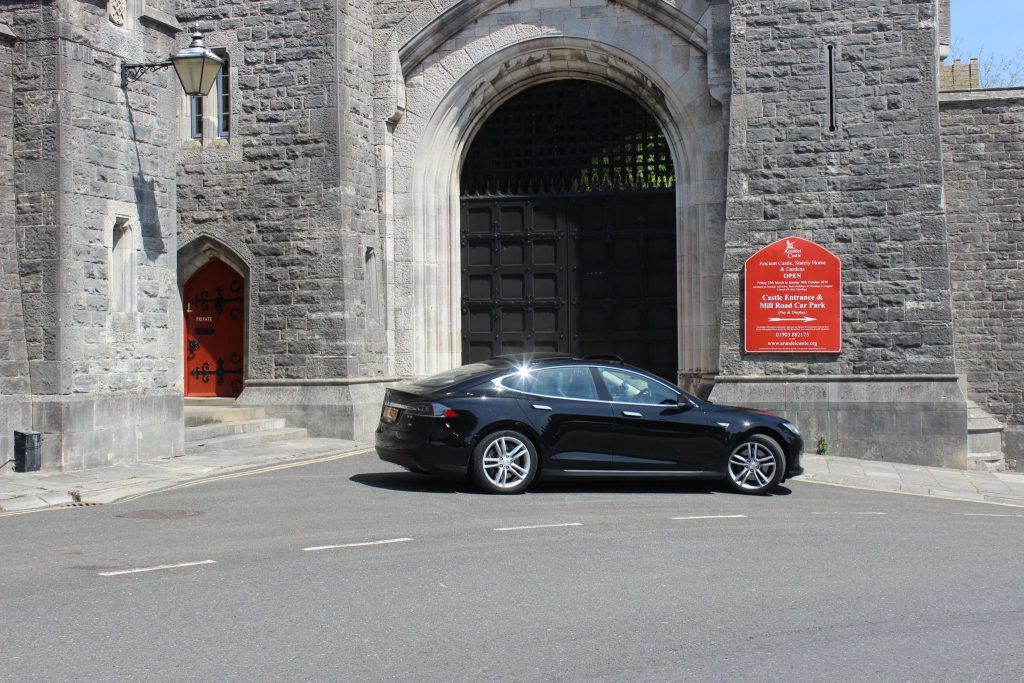 Have a look at our youtube channel for more information on 3F EV,and also to see more great videos about the Tesla Model S and how it really has changed my perspective of the future of motoring.