MotorExpo, held at Canary Wharf in London's Docklands commercial zone, holds the honour of the UK debut of the Lotus Evora 400, ahead of deliveries to customers commencing in August 2015.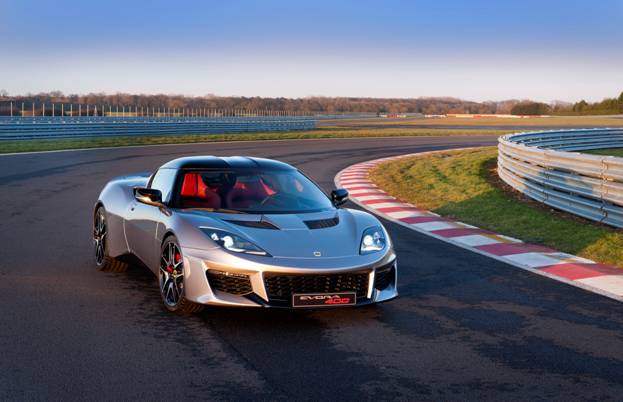 The arrival of the Evora 400 will boost the upwards trend in the UK sales demand for Lotus, led currently by both Elise and Exige models, notably as registrations of new Lotus cars in the UK have increased by 109% in the first five months of 2015. This increase is more than for any other sports car marque on sale in the UK.
The new Lotus, which boasts supercar performance, is joined by the Exige S Club Racer, with a Lotus Exige S Roadster available for test drives on the roads around Canary Wharf.
Jean-Marc Gales, Chief Executive Officer, Group Lotus plc, commented: "London's MotorExpo is the perfect showcase for the new Lotus Evora 400. Taking place in the heartland of the city's finance and commercial centre allows us to follow-up the excitement of the world reveal at Geneva, with a long-awaited UK debut. With a strong history of positive, high-end sales potential, MotorExpo is a hugely effective opportunity to present today's Lotus to potential buyers.
"In addition, our excellent UK registration figures also reflect the worldwide growth for the company, with 333 sportscars sold globally in just April and May, our best two-months performance for that period since 2010."
From figures provided by the SMMT, a total of 153 Lotus cars were registered in the UK for the first five months of 2015, an increase of 80 registered units over the equivalent period in 2014 and a measure of the company's performance arising from its development plan.
The London MotorExpo at Canary Wharf, runs until the 14th of June 2015. It is open from 10am-6pm and Sunday 11am-5pm.
The Lotus Evora 400 in more detail
The Lotus Evora 400 combines high performance with the legendary Lotus benchmark handling and is lighter, more efficient and dynamically better than ever, providing a purer driving experience, greater agility and a more involving drive. In recent tests, a standard road specification prototype Evora 400, running on road tyres and with standard road suspension lapped the Lotus test track at Hethel six seconds faster than the previous Evora S in a time of 1 minute 32 seconds.
UK prices will start from £72,000. For this price the car benefits from a high level of standard specification including 370 mm composite two piece brake discs from AP Racing, a Limited Slip Differential, automatic air-conditioning and infotainment system including satellite navigation. In addition to this, the options list includes automatic transmission at £2,000, Alcantara, or Leather, trim upgrades at £2,500 and metallic paint at £900.
A 'Black Pack' option, available at £1,250, provides a distinctive look, with selected exterior panels including the roof, sills and centre section of the three-element rear wing in gloss black and a dark headlining in the interior. Lightweight forged alloy wheels can be fitted for £2,000 and cruise control and yellow, or black, brake callipers are priced at £300 each.
Maximum speed is 186 mph (300 km/h) and acceleration 0-60 mph is just 4.1 seconds (0-100 km/h in 4.2 seconds). Over two thirds of the Lotus Evora 400 is new, including its supercharged and charge-cooled, mid-mounted 3.5-litre V6 engine producing 400 horsepower and 410 Nm of torque. A new aluminium chassis incorporates a new interior and the lightweight composite body has changed significantly both front and rear.
Official fuel consumption figures and CO2 emissions figures for the Lotus Evora 400 are not available at the time of going to press. They will be provided on the Lotus website www.lotuscars.com as soon as they are available.
Lotus Exige S Club Racer in more detail
Applying the Lotus refined Club Racer principles to the already stunning Exige S results in the most inspiring version of an already class-leading sports car.
The Exige S is a model that already excels, thanks to its lightweight aluminium chassis-tub and aerodynamically enhanced composite bodywork. Its 3.5-litre supercharged V6 engine delivers exciting performance, benchmark handling and a pure driving experience combined with a 4.0 seconds 0-62mph (0-100km/h) acceleration time and a top speed of 274 km/h (170 mph).
Available only as a coupe model, the car possesses 42 kg of aerodynamic downforce at 100 mph (160 km/h), thanks to the front splitter, rear wing and flat underside, all contributing to its phenomenal performance and handling balance.
At 1161 kg, it is lighter by 15 kg compared to the Exige S, because of its new lightweight battery, lightweight centre console in body colour, lighter doors and lightweight sports seats in leather or Alcantara with colour coded stitching. Traction slip thresholds ('Drive', 'Sport' and 'Race' settings) allowing the driver enhanced vehicle control before intervention is required can be altered via a driver-selectable switch which is now fitted as standard. Both 'Sport' and 'Race' settings increase throttle responsiveness.
The Exige S Club Racer is available in Metallic White, Exige Orange, Metallic Yellow and Matt Black (option). The front splitter, rear wing, front access panel, roof panel, wing mirrors and rear transom are in matt black. Club Racer decals inside on the dashboard and seats and outside above the side indicator identify this latest special addition to the Exige range.
All this additional equipment amounts to £4,500 worth of extra value, for only £2,400 more than the standard Exige S (£54,500).
The Lotus Exige S Club Racer is on sale now with an MSRP of £56,900.
Fuel Consumption (mpg [l/100 km]): Urban – 19.5 (14.5); Extra Urban – 37.2 (7.6); Combined – 28.0 (10.1).
CO2 emissions: 235 g/km