If Caterham Cars has done its sums correctly, it should take four technicians just six hours to build one sports car… in public
No matter how many cars are on display at the free-to-view Regent Street Motor Show at the end of this month (Saturday 31 October) – and there will be hundreds – one more will leave than arrived.
Four technicians from Caterham Cars will be building a car from scratch throughout the day. The four-strong team will start the day surrounded by a number of boxes full of parts to build up a Caterham Seven, and just six hours later they plan to drive the finished car away.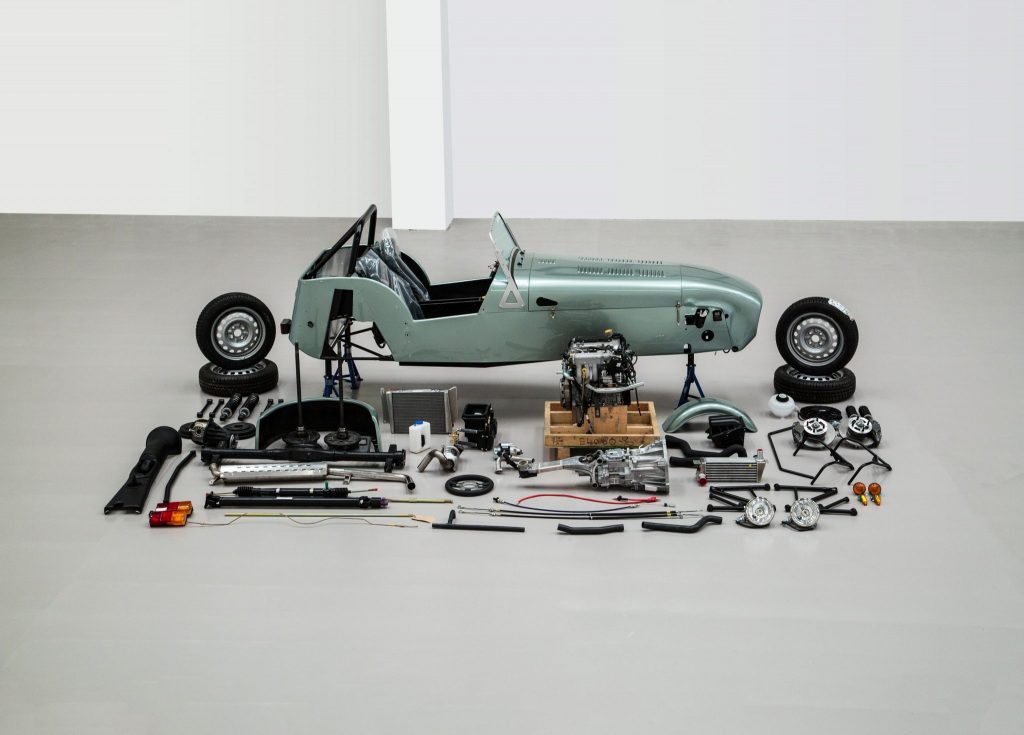 Caterham Cars was founded in 1973 to manufacture and sell the self-assembly Seven two-seat sports car, and they've been doing it ever since.
Based on the Lotus Seven from the 1950s, the current Caterham shares the same 'back-to-basics' looks as the original and it still shares the ethos of the original – performance through lightweight – but the design has been constantly refined over the years.
The entry level Caterham Seven 160, for example, is powered by a tiny turbocharged 660cc Suzuki motorcycle engine but despite having only 80bhp at its disposal, it can rocket to 60 mph in under 7 seconds. Driving fun is standard, not an option.
"The idea behind building a car at the Show is to demonstrate how uncomplicated it is to build a Caterham – although we don't expect every customer to complete the job in a mere six hours!" said Ian Rea, Marketing and Communications Manager, Caterham Cars.
The Caterham build will be just one of the attractions at the Regent Street Motor Show, itself one element of the Royal Automobile Club's London Motor Week – seven days when the capital honours the car.
Enticing as many as 350,000 enthusiasts, tourists and shoppers last year, London's premier shopping street is closed to traffic for the day to allow cars from the past, present and future to be displayed for all to enjoy.
The Show's centrepiece will be a display of more than 100 veteran cars, all taking part in the prestigious EFG International Concours d'Elegance. Many owners and their passengers will be in period costume, preparing themselves for the famous Bonhams London to Brighton Veteran Car Run, which sets off from nearby Hyde Park early the following morning (Sunday, 1 November).
The veterans will be rubbing shoulders with classic cars, new cars and futuristic 'low or no' emission electric and hybrid vehicles. The latter display is backed by two organisations helping to shape our motoring future – Go Ultra Low and Transport for London (TfL).
Another star attraction comes mere days after the red carpet premiere of the new James Bond film, Spectre – 007's Aston Martin DB10 will be on display along with a number of other Aston Martins including the latest special Bond edition DB9 GT.
The Regent Street Motor Show takes place from 10:30 until 16:00 on Saturday 31 October. Keep up-to-date on all the latest news on Facebook at: https://www.facebook.com/RegentStreetMS or on Twitter @RegentStreetMS or via the official website: http://regentstreetmotorshow.com/.