When the first generation Ford KA was launched in 1996, it quickly made a name for itself as a minimalist and reliable little run around. Its launch was a huge success and actually took ford by surprise, and during its 12 years of production, it won many awards. They stopped making the first generation model in 2008, but there are still plenty of them around and despite the fact that it now has lots of competition, it still has a lot to offer and remains one of the most popular mini cars in the UK today. In 2008, Ford joined forces with Fiat to launch the second generation Ka. It is still recognised as an enjoyable car to drive, however, its looks have completely changed.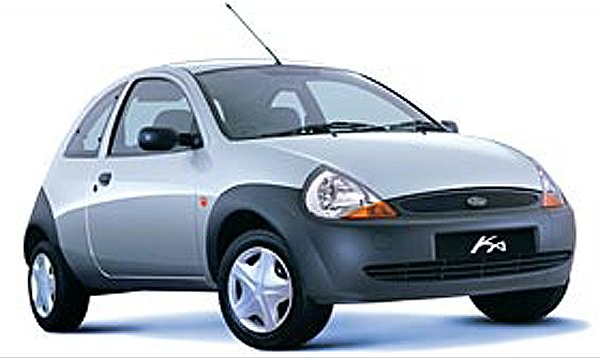 First Generation Ford Ka
The style of the original model is cute, quirky, distinctive and original. The design still works today, especially those with body painted bumpers. The Ka is very cheap to buy, with used prices ranging from just £140 to around £3,000. On top of that, it is cheap to run with a very fuel efficient engine. A word of warning though, the engines of the Ka's built before 2000 are known to not be particularly great, and there is very little boot space. These problems were rectified in post 2000 models.
The first generation Ka is a basic car, so there are no luxuries inside, however, the hard wear is presented very neatly. As far as a small runabout goes, it handles very nicely around town, while still being fairly comfortable for longer motorway drives. Its age means that there are so many first generation Ford Ka's for sale, but that is a good thing because it means that there is less likelihood of picking a bad one.
Second Generation Ford Ka
The post 2008 model has lost its quirkiness in the looks department, however, some may see the new look as more fashionable and in line with other mini cars on the streets today. The basic cabin of the original model has been replaced by a more sleek and modern look which is practical while being stylish. There is a reasonable scope for personalisation. As well as the standard range, which includes the Studio, Zetec and Titanium models, Ford also offer the Grand Prix II and Metallic editions which come in a range of graphics and paint colours. Of course, the more personalisation, the higher the price you pay.
Like most cars, you don't get much for your money with the entry level version. Entry level gets you just MP3 connectivity and a radio. Saying that, the Edge, which is a part of the standard range, comes with remote central locking, manual air conditioning and electric front windows. The Zetec model, also in the standard range comes with alloy wheels, 50:50 split back seats, heated wing mirrors and front fog lights.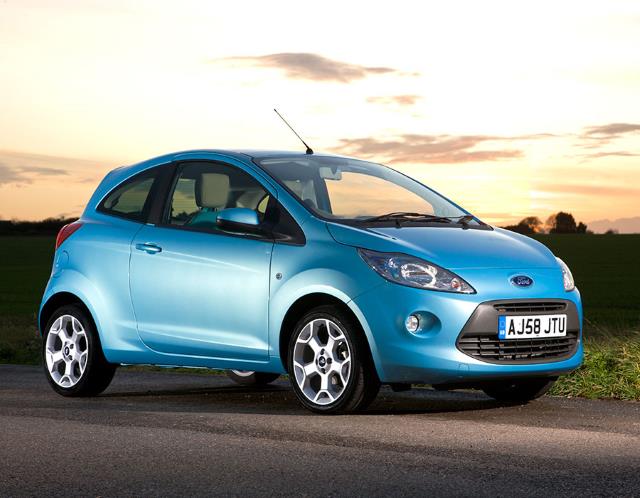 Second Generation Ford Ka Driving
There are two engine types available, the 68bhp 1.2 litre petrol version and the 74bhp 1.3 litre diesel version. The petrol version does 0 to 60 mph in 13.4 seconds, while the diesel does 0 to 60 mph in 13.6 seconds with maximum speeds of 99 mph. Both engines are hardly speed demons, however, both handle nicely around town and they are up to the job on the motorway. The rev on the petrol is far more fun to work with than the diesel, which has a bit more shove in the lower gears. The steering is nimble and the suspension feels just right. There is no automatic version of this car. Both engines offer a five speed manual gear box.
Second Generation Ford Ka and Reliability
With a four star Euro NCAP crash test rating, it is much safer than the first generation model, however, it still only has two air bags fitted as standard. If you want more air-bags, you have to get them as extras. The new Ka is made in the same factory as the Fiat, so they share the same chassis, suspensions, gearboxes and engines. This is a good thing because Fiats are known for their reliability when it comes to these components.
Second Generation Ford Ka Cost Effectiveness
The new one is still affordable with prices ranging from £8k to £12K for a brand new Ka and as low as £2000 for a 2008 model. Both the diesel and the petrol versions are cheap to tax owing to their frugal fuel consumption and CO2 emissions. The diesel fuel consumption comes in at a low 68.9 mpg and the petrol comes in at 57.7mpg. CO2 emissions come in at 109g/km CO2 and 115g/km CO2 for the diesel and petrol models respectively. Both cars are in insurance group three, which also adds to the cost effectiveness of this cute little car.