The Elise S Cup R takes its place in the stable alongside big brothers the Exige V6 Cup and Exige Cup R and the mighty Evora GT4 in Birmingham between 9th and 12th January 2014, illustrating the variety of appeal of the Lotus Motorsport family.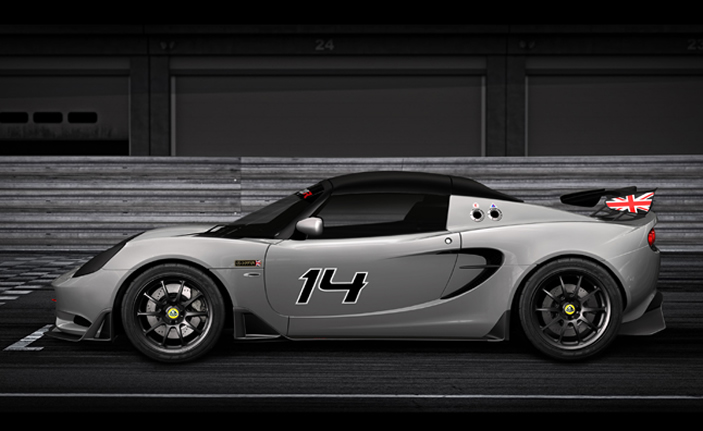 The Lotus suite of products caters for all levels of experience, budget and talent! Enjoying motorsport could not be more rewarding than through the legendary Lotus marque. Be it a novice shopping for a 1-day driving experience or comprehensive driver training, experiences and courses are available through Lotus Driving Academy; or for Lotus owners looking to race their road cars at weekends, or indeed take racing a step further by entering their Lotus to compete around the world through the global Lotus Cup network; or indeed take part in the almighty GT and endurance series with the outstanding Evora GT4 – there is a Lotus to suit.
Showcasing the latest from the Lotus Motorsport collection at this year's Autosport show:
Elise S Cup R
Evolving from the road-going Elise S, Lotus is delighted to present the mid-mounted, transverse, 1.8 litre Elise S Cup R. Boasting bespoke livery and aerodynamic body kit, the Elise S Cup R takes a purposeful stance on the iconic Elise aesthetic – that points straight to the track!
The Elise S Cup R's motorsport-specific map in the engine control module (ECM) and CFD proven aero pack ensure the Elise's small physique packs a mighty punch! With revised front splitter, barge boards, winglets, rear diffuser, floor extensions and rear wing, clever manipulation of air-flow creates extra downforce – and combined with adjustable dampers and springs, lap times are reduced by circa 4 seconds on a 2.2 mile lap over the standard Elise S.
Rupert Manwaring, Head of Lotus Motorsport commented, "Developing the Elise S Cup R was a natural step following the success of the Exige V6 Cup R; with so many new markets becoming interested in motorsport, the Elise S Cup R gives us the perfect entry level track-car. Whether the focus is racing or simply developing your driving skills on a race circuit and having fun, the incredible handling and ease of use with low running costs make the Elise S Cup R an intelligent choice".
Exige V6 Cup and Exige V6 Cup R
The critically acclaimed Exige V6 Cup and the race-only Exige V6 Cup R give a taster of where talent and ambition can take you if the Elise S Cup R whets your appetite! The road legal Exige V6 Cup offers a turn-key solution for track enthusiasts who want the flexibility of driving to the track and race before driving home, whilst the track only Exige V6 Cup R is a pure-bred track car with simply one objective.
Both are equipped with bespoke exterior liveries and interior trim, steel main roll hoop incorporating 'A' frame, harness bar, FIA approved fire suppression system, Internal & external battery isolator switches, competition driver's and passenger's seat with 4 point harnesses, Pirelli Corsa tyres, 4 mode DPM, 2 piece brake discs, exhaust bypass switch, Multi adjustable suspension, removable quick release steering wheel, baffled wet sump system, front and rear towing eyes, Lotus Racing specific chassis number.
Proving its race intent, the Exige V6 Cup R is modified further to include a FIA compliant Roll Cage, motorsport specification carbon fibre rear wing, carbon fibre lightweight louvered engine cover, optional 6 speed sequential transmission with 'paddle-shift' operation and race tuned shift strategy, FIA FT3 70 litre capacity fuel cell, FIA and HANS compliant carbon fibre drivers seat with 6 point harness, Pirelli Corsa tyres ,variable traction control, multi-adjustable competition specification suspension with front and rear anti roll bars, removable quick release steering wheel and baffled wet sump system with single rear mounted oil cooler.
Evora GT4
Dominating the line-up is the awesome Evora GT4 shown in the iconic Black & Gold Lotus livery. Developed from the award-winning Lotus Evora sportscar, the Lotus Evora GT4 race car is engineered and developed in conjunction with a number of prestigious technical partners to deliver world-class chassis, steering and brakes, resulting in exceptional handling.
A naturally-aspirated V6 engine is managed by Cosworth Electronics Systems, delivers 360 ps @ 6500 rpm and 445Nm of torque @ 5500 rpm powering the rear wheels through a 6-speed sequential gear box, with 'paddle shift' gear selection.
FIA approved design and safety features secure the car's entry to 12 of the world's leading GT series and can be easily modified for the demands of endurance events should the driver seek even more demanding pursuits! The Evora GT4 currently holds the Austrian GT4 title and is due to compete in the 2014 European GT4, British GT4 and the Dubai 24 hours.
Lotus Cup
All cars on display are eligible for entry in the 2014 Lotus Cup series which operates under the banners Lotus Cup UK, Lotus Cup Europe, Lotus Cup Italia, Lotus Cup USA, Lotus Cup Japan, Lotus Cup Thailand, Lotus Cup Asia and Lotus Ladies Cup. The Lotus Cup is open to all Lotus owners and their Elise, Exige, Evora, 340R and 2-Eleven.
Lotus Racing partner and Lotus Cup Italia organiser PB Racing chooses Autosport International to launch its 2014 programme. PB Racing President Stefano d'Aste says, "We have a very exciting 2014 season planned for Lotus Cup Italia; we have been working in close collaboration with Lotus Racing to produce a very special car exclusively for our customers; the Elise S Cup PB-R which reaches 225hp, and being lightweight it's the perfect mix for an easy and fun drive! It is our promise to make Lotus Cup Italia easy for teams, dealers and customers to compete in and as such technical assistance will be available on site for all events, with hospitality for partners and sponsors and a fully managed programme – it's the full package for rookies or experienced drivers and anyone in between!"