Welcome once again to another episode of Supercar: part comedy, part tragedy.
Remember when you were a kid and your mom told you not to run too fast or else you'll trip? Then she will clean your boo-boos and scold you to death. This man clearly did not listen to his mother. And no one will clean up after his mess anymore. He must be embarrased. His ego must've been somewhere in the Mariana's trench after being in Mt. Everest after he left the showroom.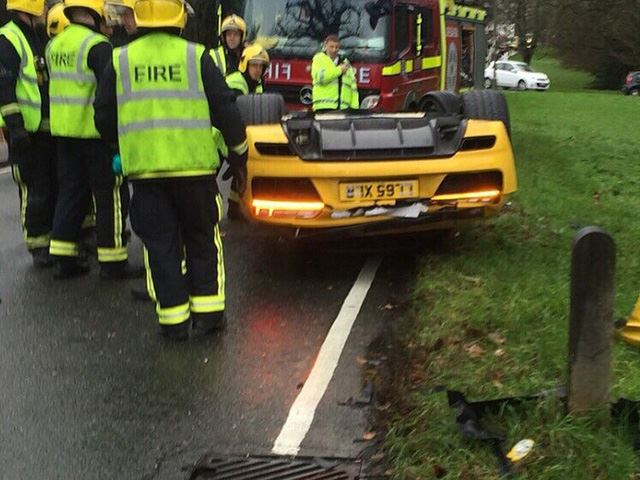 That is how one wealthy but untalented bloke is feeling after flipping a new-from-the-showroom Audi R8 V10 Plus. No, he didn't hit a tree. Which makes this mishap slightly mysterious.
What happened was the potential customer clipped a kerb and flipped. Now even with all the powers that be and Audi's Quattro all wheel drive, traction is non-existent if the contact patch is catching air. Lots of air. The resulting damage isn't bad. It's terrible.
Which brings us to a conclusion: that having too much power is never a good idea. Great power comes great responsibility. And often that responsibility comes at an even greater cost. You will need uprated suspension, uprated brakes, uprated electronic nannies which make the car heavier. Thus, needing more power. And if you go to triple digit speeds, you will still end up in a tree if you're not careful. Another thing, if Britain's motorways are limited to speeds even a Vauxhall diesel can reach, completely pointless.
It can't feel nice after flipping over a car. And in this case, a brand-spanking-new R8. Ouch!
What do you think should be the proper horsepower count for cars? Post your comments below.