The engine line-up for the BMW 4 Series range, Coupé, Convertible and Gran Coupé, will be refreshed in Spring 2016. The flagship engine will be reinvented and improved once again to create a new six-cylinder in-line unit with BMW TwinPower Turbo technology, with a maximum output of 326hp, an increase of 20hp from the previous generation.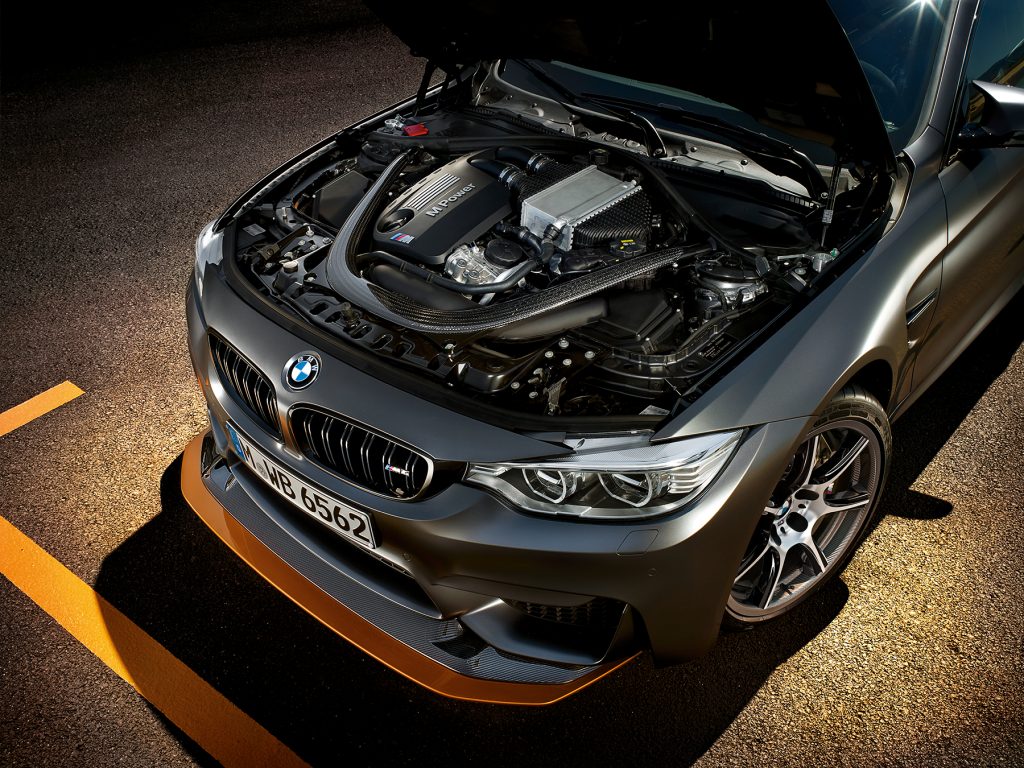 In the new BMW 440i Coupé the engine will channel its power through a six-speed manual gearbox as standard or an eight-speed Steptronic transmission as an option (the latter is standard on the BMW 440i Convertible and BMW 440i Gran Coupé).
With a 0.2 second improvement, the BMW 440i Coupé accelerates from zero to 62 mph in just 5.2 seconds (automatic: 5.0 seconds), the BMW 440i Convertible completes the same sprint in 5.4 seconds and the BMW 440i Gran Coupé posts a figure of 5.1 seconds. Fuel consumption and CO2 emissions are both reduced by up to 12 per cent and now stand at 36.7mpg (41.5mpg) for the BMW 440i Coupé, 39.2mpg for the BMW 440i Convertible 41.5mpg for the BMW 440i Gran Coupé.
The new four-cylinder petrol engines available for the BMW 4 Series have also been improved to enhance sporting performance and efficiency. With output raised to 252hp and peak torque of 350Nm, the most powerful latest-generation four-cylinder unit provides a zero to 62mph time of 5.9 seconds (5.8 seconds) for the new BMW 430i Coupé, 6.4 seconds (6.3 seconds) for the new BMW 430i Convertible and 5.9 seconds (5.9 seconds) for the new BMW 430i Gran Coupé.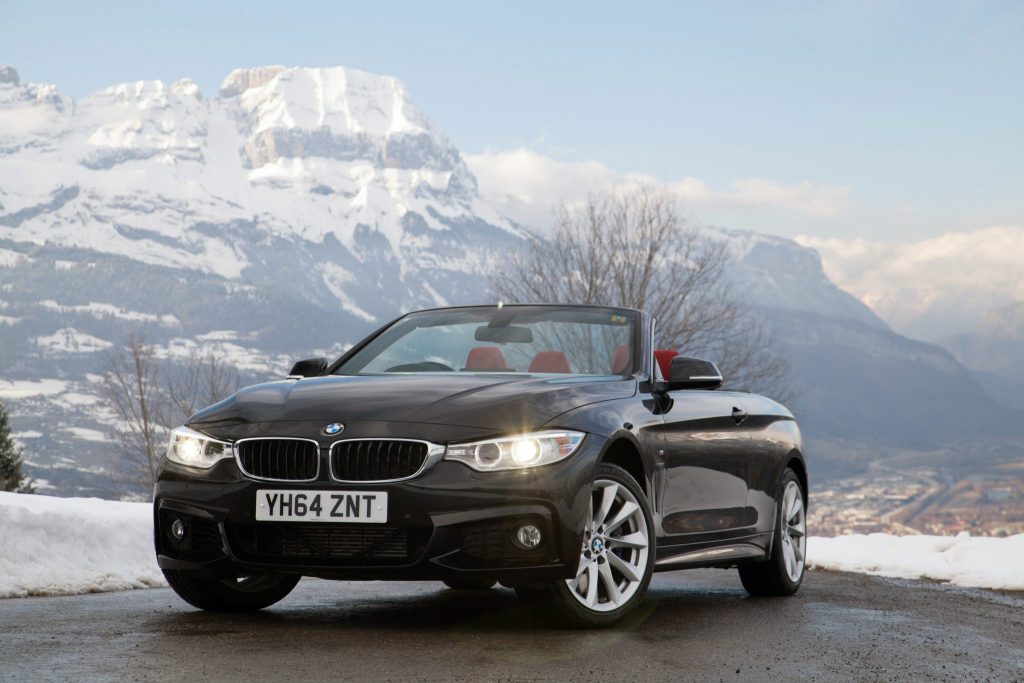 The BMW 420i Coupé, BMW 420i Convertible and BMW 420i Gran Coupé will likewise be powered by a member of the latest engine generation from March 2016, in the shape of the 184hp four-cylinder unit. The new BMW 420i Coupé sprints from zero to 62mph in just 7.3 seconds (7.5 seconds), while the BMW 420i Convertible and BMW 420i Gran Coupé log times of 8.2 seconds (8.4 seconds) and 7.5 seconds (7.7 seconds) respectively. Combined fuel consumption and CO2 emissions stand at 48.7mpg (51.4mpg) and 134g/km (127g/km) for both the BMW 420i Coupé and the BMW 420i Gran Coupé, while the BMW 420i Convertible records figures of 45.6mpg (48.7mpg) and 145g/km (136g/km).
The BMW 420i xDrive Coupé and BMW 420i xDrive Gran Coupé all-wheel-drive models are both offered with new engines and can also be ordered with a manual gearbox or Steptronic transmission.
Model
OTR Price
from
Power
Hp
Torque
Nm
0 – 62mph
Seconds
Top Speed
Mph
Combined
Mpg
CO2Emissions
g/km
BMW 420i Coupe/
Convertible/
Gran Coupé
£30,260
£35,025
£30,260
184
184
184
270
270
270
7.3 (7.5) 8.2 (8.4)
8.2 (8.4)
7.3 (7.5)
8.2 (8.4)
7.5 (7.7)
48.7 (51.4)
45.6 (48.7)
48.7 (51.4)
134
145
134
BMW 430i Coupe
/Convertible/
Gran Coupé
£36,020
£40,220
£36,020
252
252
252
350
350
350
5.9 (5.8)
6.4 (6.3)
5.9 (5.9)
5.9 (5.8)
6.4 (6.3)
5.9 (5.9)
46.3 (51.4)
42.8 (47.9)
46.3 (51.4)
 151
162
151
BMW 440i Coupe/
Convertible/
Gran Coupé
£42,230
£47,680
£43,750
326
326
326
450
450
450
5.2 (5.0)
5.4
5.1
5.2 (5.0)
(5.4)
(5.1)
38.2 (42.8)
(41.5)
(42.8)
179
167
159
*Electronically limited
New Competition Package heightens performance of BMW M3 and BMW M4.
The BMW M3 Saloon, M4 Coupé and M4 Convertible will now be available with a special Competition Package from BMW M GmbH that further enhances the driving dynamics. Upgraded chassis tuning is combined with a 19hp power hike that takes output to 450hp with extra exclusive equipment added too.
Model
Price
from
OTR
Power
Hp
Torque
Nm
0 – 62mph
Seconds
Top Speed
Mph
Combined
Mpg
CO2Emissions
g/km
M3 Saloon with
Competition Pack
£59,595
450
550
4.0
155*
32.1 (34.0)
204 (194)
M4 Coupé with
Competition Pack
£60,055
450
550
4.0
155*
32.1 (34.0)
204 (194)
M4 Convertible with
Competition Pack
£63,350
450
550
4.3
155*
31.0 (32.5)
213 (203)
*Electronically limited
The suite of upgrades means an improvement to overall performance. The BMW M3 Saloon and BMW M4 Coupé with optional 7-speed M Double Clutch transmission go from sprint from rest to 62mph in just 4.0 seconds, while the BMW M4 Convertible reaches the same speed in 4.3 seconds. The sprint time for models with the standard 6-speed manual transmission is likewise 0.1 seconds faster in all cases compared to the standard car.
The Competition Package includes Adaptive M Suspension, which has been extensively tuned to the enhanced performance and handling, features new springs, dampers and anti-roll bars, along with reconfigured driving modes (Comfort, Sport and Sport+). The standard Active M Differential on the rear axle and DSC Dynamic Stability Control have likewise been configured to match the upgraded dynamics. Exclusive forged, machine-polished, weight and rigidity optimised 20-inch M alloy wheels with exclusive multi-spoke M styling and mixed tyres (front: 265/30 R20, rear: 285/30 R20) complete the list of chassis upgrades.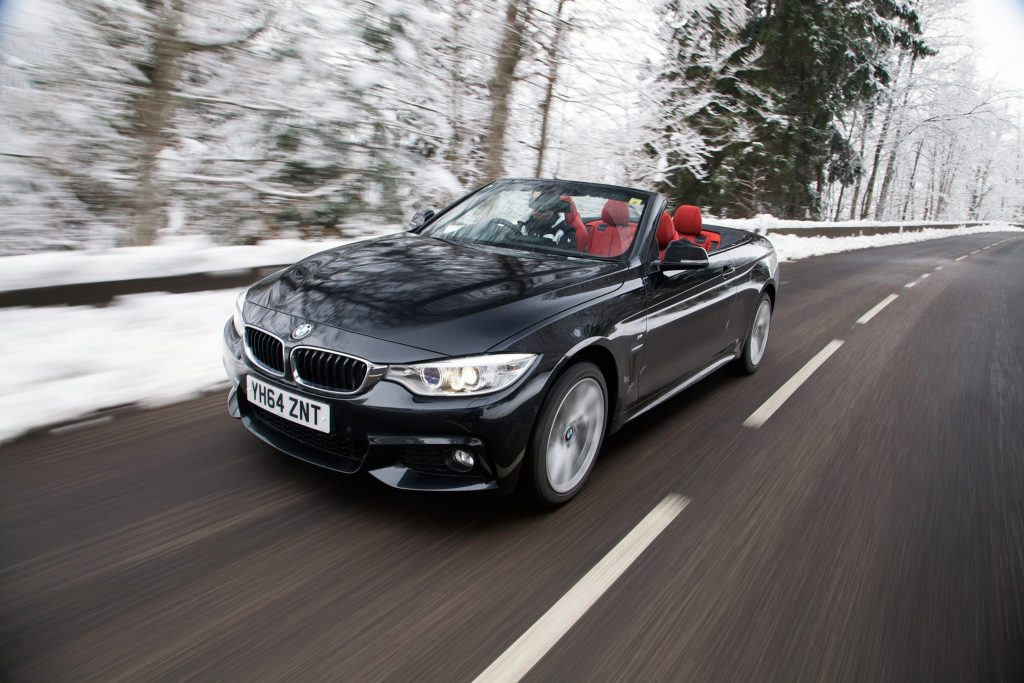 For the BMW M3 and BMW M4 Coupé, the Competition Package includes special lightweight M sports seats that combine perfect support under extremely hard driving with exceptional comfort on long journeys. Seatbelts with woven-in BMW M stripes cap off an extremely sporty interior ambience.
Eye-catching exterior highlights of the Competition Package include the M sports exhaust system with black chrome tailpipes. Even more than its good looks, the most distinctive feature of the M sports exhaust system is its potent sound, which brings added emotional resonance to the driving experience. The starting rumble and the distinctive burble on overrun never fail to get under the skin of dedicated drivers time and again.
The Competition Package for the BMW M3 and BMW M4 is topped off by extended BMW Individual high-gloss Shadow Line exterior trim. The high-gloss Black finish has been applied not only to the side window trim, window recess finishers and exterior mirror frames and bases, but also to the BMW kidney grille, the side gills and the model badge on the tail.
Unique M Carbon Compound wheels for the BMW M4 GTS. 
The new BMW M4 GTS and its six-cylinder in-line engine that develops 500hp with the help of the water injection system employed for the first time, will now be offered with unique BMW M Carbon Compound wheels. This results in a significant reduction in unsprung and rotating masses creating a positive effect on the car's acceleration and deceleration, steering responses and vibration levels.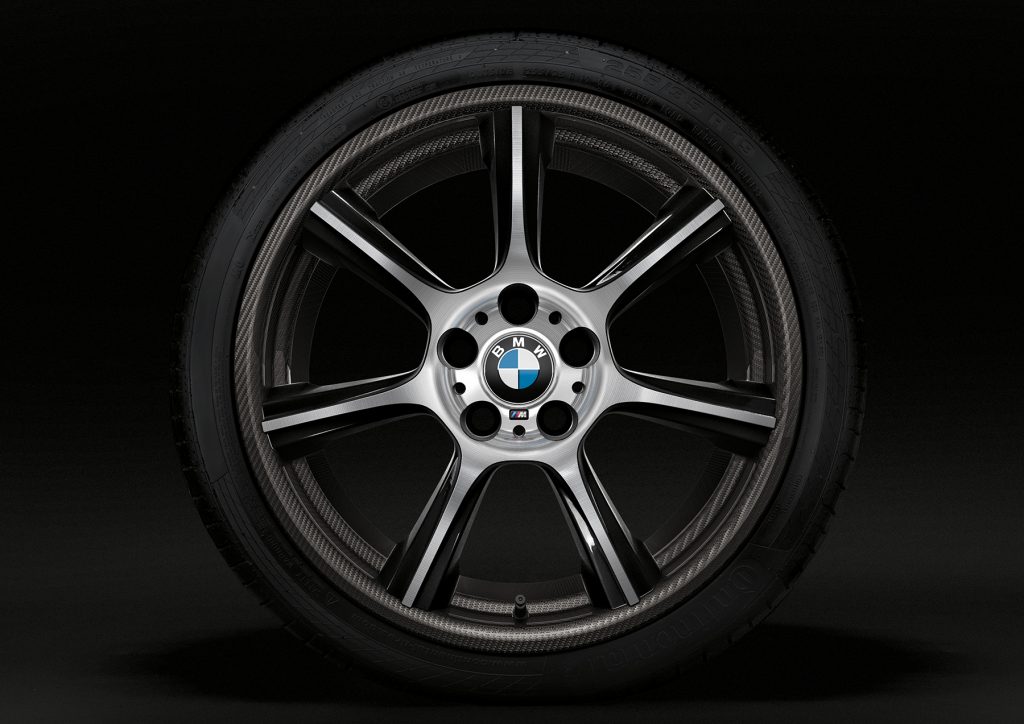 Designed for the race track yet also approved for road use, this technological showpiece is therefore the world's first series-produced vehicle that can be fitted with wheels boasting a CFRP/aluminium-composite construction. They enable around seven kilograms to be shaved off the weight of a BMW M4 GTS fitted with the already extraordinarily lightweight forged aluminium wheels specified as standard. Rim wells in exposed carbon also lend the BMW M Carbon Compound wheels exclusive visual accents. The wheels are fitted with Michelin Pilot Sport Cup 2 tyres adapted specially for the BMW M4 GTS.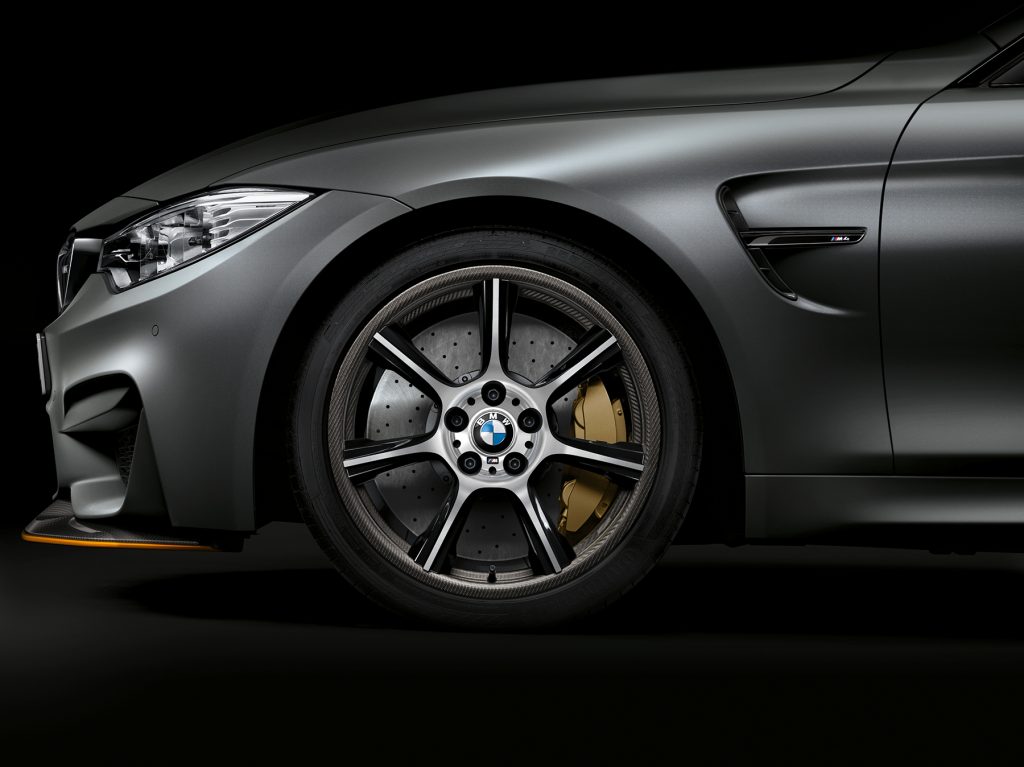 Innovative changes to the BMW X3 and BMW X4.
New equipment options available for both BMW X3 and BMW X4 models which include telephony with wireless charging and the Wi-Fi hotspot function. Working together with the optional Professional Navigation system, the iDrive operating system now also offers innovative menu graphics for the Control Display in both models, using tile symbols arranged side-by-side.
The Chestnut Bronze metallic shade will be introduced as a new exterior paint finish for the BMW X3 and BMW X4. And new variants of optional light-alloy wheels will also be available.
Smarter integration for the BMW 6 Series model range.
Attractive additions to the list of standard equipment will shine an even brighter spotlight on the exclusive character of the BMW 6 Series from Spring 2016. The latest BMW iDrive interface first made available in the new BMW 7 Series Saloon will be introduced to the Professional Multimedia system of all BMW 6 Series Coupé, Convertible and Gran Coupé models.
The main menu and the functions of the navigation, entertainment and communications systems, among others, will adopt an enhanced visual appearance with easier navigation, requiring reduced clicks to locate key menus and options. All model variants now include a higher resolution 10.2-inch Control Display with additional ceramics to the iDrive controller.
Along with the updated iDrive interface the BMW 6 Series will also receive the latest Enhanced Bluetooth with Wireless Charging. This innovative function makes in-car mobile phone usage that much easier. Smartphones allowing inductive charging can be topped up with power (using contactless technology) while on the move in the discreet mobile phone compartment within the centre console. Furthermore, the Wi-Fi hotspot preparation provides an in-car wireless internet connection for other mobile devices.
BMW 7 Series model range: Remote Control Parking.
Remote Control Parking will now be available for all new 7 Series models from March. This globally unique option allows the new BMW 7 Series to manoeuvre in or out of forward-parking spaces or garages without anyone at the wheel. The process is activated by the driver from outside the vehicle using the new BMW Display Key and then performed semi-autonomously by the vehicle. During the procedure the driver can bring the vehicle to a controlled stop if necessary. Once parked, the engine can be switched off via the key. And when it's time to move on, the engine can also be restarted via the key.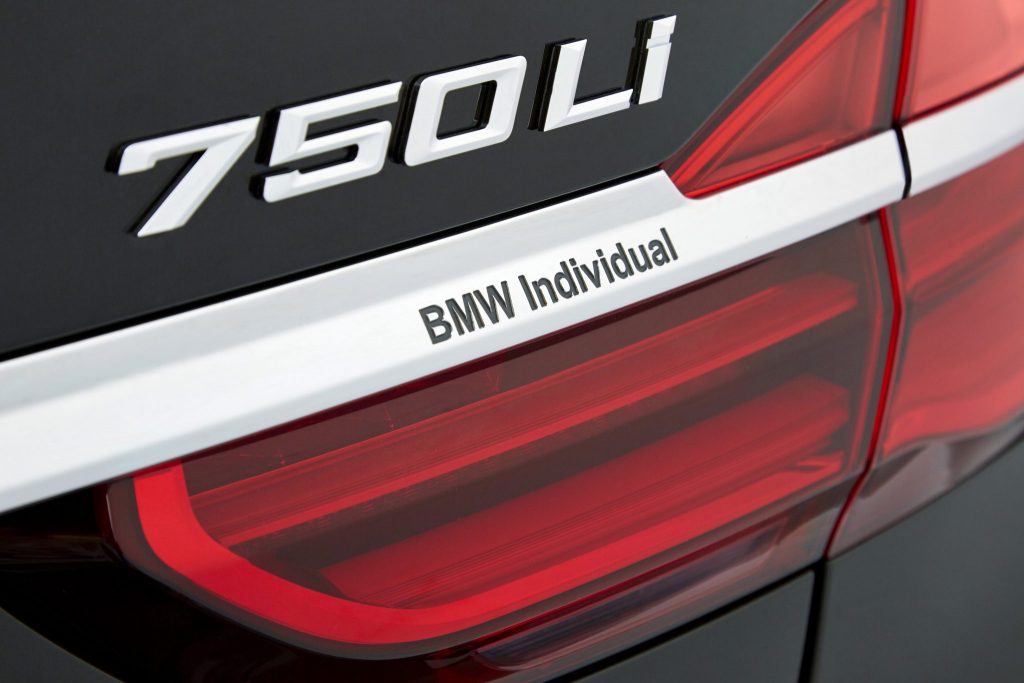 BMW Individual: manufacturing takes place from March.
Additional equipment options will be available from March 2016 which allow individualisation of the luxury saloon to reflect the customer's personal style. The range of exterior colours will expand to include the BMW Individual special paint finishes Brilliant White metallic, Frozen Dark Brown metallic, Pure Metal Silver and Frozen Arctic Grey metallic. BMW Individual paint finishes of Ruby Black metallic, Moonstone metallic, Azurite Black metallic and Almandine Brown metallic are also offered. BMW Individual now also offer fine-grain full Merino leather in six colour combinations, BMW Individual Piano Black interior trim and two exclusive BMW Individual fine-wood trim variants.